Shirtless Wimbledon champion Roger Federer soaks up the sun alongside his bikini-clad wife Mirka during family holiday in Italy
He made history by winning a record eighth men's singles title and 19th Grand Slam at Wimbledon in July.
But as the dust slowly settles on a triumphant display at the annual tournament, Swiss tennis ace Roger Federer, 35,had been enjoying a well-earned break with his wife Mirka, 39, in Porto Cervo, Italy.


The decorated sportsman soaked-up the sun with his long-term love by their resort's idyllic pool, holding hands as they made their way to their wooden sun loungers.
Proving to be a helping hand, Mirka made sure her sports star hubby was protected while he sat out in the soaring temperatures as she laddered sun cream on his back in between his quick dips in the water.
The Slovak-born beauty showcased her curves in a floral two-piece that accentuated her buxom bust as she walked in the midst of fellow holiday revellers.


Working her glossy locks into a loose chignon, she protected her peepers with a pair of statement shades which highlighted her delicate facial features.
Clad in a pair of powder blue shorts, Roger showcased his muscular frame with aplomb as he enjoyed a break by the pool.
Having arrived to his sun lounger in a navy T-shirt, he also returned his wife's favour by applying sun cream to her back while they prepared for a day out under the Italian rays.
The famed Tennis star worked his trademark locks off his face as he donned a pair of reflective shades for the afternoon.


The loved-up pair were joined by their daughters Myla and Charlene, eight as well as their three-year-old boys Lenny and Leo for the outing.
Their sun-bathing session comes after they enjoyed a quiet moment strolling across a local jetty during their latest appearance on the picturesque Italian island.
Appropriately dressed in a blue polo shirt, shorts and flip-flops, Federer looked relaxed while making his way back to the sweeping coastline.


Joining her husband, former tennis player Mirka – a one-time World number 76 – sported a seasonal floral print summer dress and heavily tinted sunglasses.
Seemingly enjoying some time without their children, the couple shared an affectionate moment as they faced one another, with Federer leaning in for a kiss.
The previous day it was back to dad duties for Federer as he stepped out inItaly with his twin sons.
The sportsman seemed to be enjoying a well-deserved day off with his three-year-old boys Lenny and Leo, as they strolled around the docks in the seaside town of Porto Cervo.
Federer kept things casual on the outing, stepping out in a pair of baby blue shorts and a mint green T-shirt.
He completed his stylish look with a pair of white sneakers and a shiny wristwatch, throwing on a pair of shades to keep the glare at bay.


Federer doted on the boys as they explored the town, holding their hands and leading them around to see the sites.
The boys looked adorable in matching blue polo shirts, with one of the blonde-haired youngsters wearing light blue board-shorts and black sandals.
Dijana Djokovic reveals the most difficult match of Novak's to watch
The mother of World No. 1 Novak Djokovic says watching her son at the Wimbledon singles final last year was the most difficult time she has had while watching her son play in his career. Djokovic came back from match points down to defeat Roger Federer in a classic five setter to win the Wimbledon title in July even as the whole stadium seemed to cheer for the Swiss legend.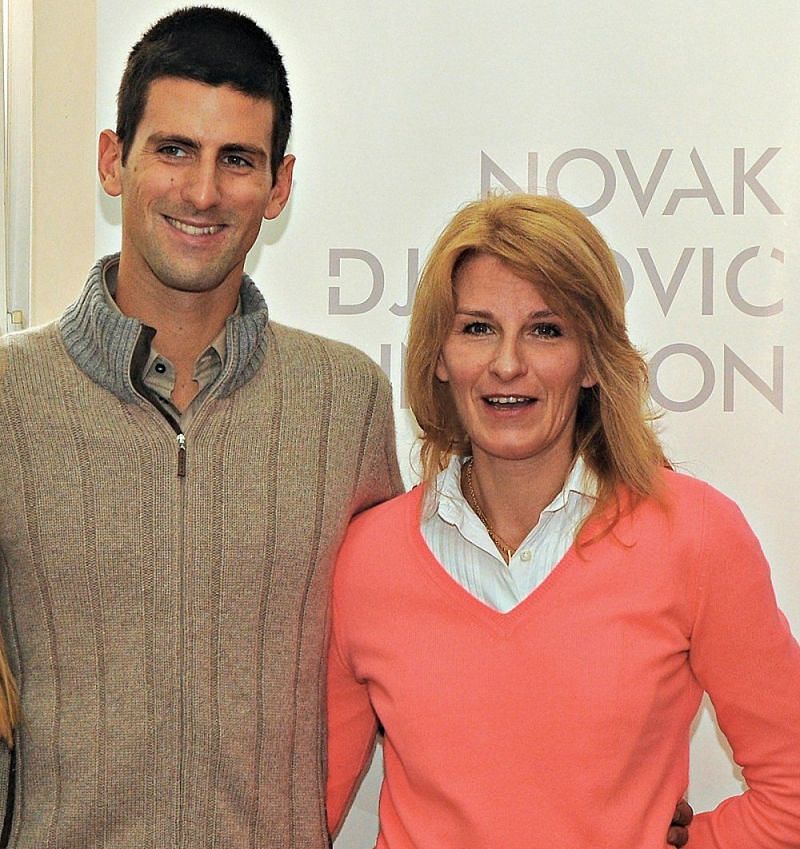 Dijana was speaking in an interview with the Serbian portal "Blic Sport" on the program, "Mothers of Champions" "I saw a lot of his matches, but Wimbledon was the most difficult last year. In a stadium where everyone was cheering on Roger Federer, we were just a handful of fans for Novak.
When Federer had two match points, I reached for my cross from the Don river. I am a believer, I wear the amulet all the time, it often saved me in difficult moments. I said to myself, 'Nole, you can do it, you've done it twice, you can do it again.'
He did it. He was saved by God. Novak also believes in God, he feels chosen. He carries a cross that brings him peace and happiness. It is from the Greek monastery Hilandar. He says his prayers morning and evening," The mother of the 17-time Grand Slam champion also recalled another painful defeat – at the Rio Olympics in 2016, where he lost to World No.
1 Juan Martin del Potro in the first round. "The defeat at the Olympics in Rio still breaks my heart. Novak is a happy child and has no problem crying. But the tears at that time were the biggest I have ever seen with him.
He had all the prerequisites to win gold. The wish was not granted to him. He had this elbow problem and couldn't stand the pressure. He felt that he had disappointed the people in Serbia. We were both very emotional. Maybe he got that from me – sometimes I curse quite a lot."
Dijana also gave some insight about some of the early health problems that Novak suffered during his career. "At the beginning of his career, Novak had many health problems. Because he had to give up a few matches, he was often attacked by the public or by tennis experts.
He had a curvature of the nose wall, it was difficult for him to breathe. After an operation, things went better. In 2010 he was found to be intolerant to gluten. It made life difficult for him. He had to give up in Australia because of the heat.
Then his bleeding toe in Paris in 2007: after playing for five consecutive days, he gave up the semi-final against Nadal. Then everyone accused him, including John McEnroe! I had bandaged his foot the night before the duel. In the morning he could barely walk in slippers.
I advised him not to go to the court, he absolutely wanted to get an injection. Then he beat Nadal 6-2 in the first set. Novak took a medical timeout between sets to bandage the wounds. When Nadal saw the blood, he knew what was going on and then chased him into every corner until Novak had to give up."