Roger Federer married to ex-tennis player – all information about wife and children
Roger Federer married to ex-tennis player – all information about wife and children
Tennis player Roger Federer has been with his current wife for over 20 years. Unlike other tennis stars, the Swiss man has a scandal-free marriage.
Basel – On April 11, 2009, tennis player Roger Federer and his long-time friend Mirka Vavrinec tied the knot. The wedding ceremony and celebration took place in Basel, Federer's hometown, in a small group. Roger Federer's wife was already pregnant at this point. In July of the same year, Mirka Federer gave birth to twin girls.
Roger Federer: origin and family of the tennis player
Roger Federer was born on August 8, 1981 as the son of Swiss Robert Federer and his South African wife Lynette in Basel born. Robert Federer was an avid hobby tennis player, but did not push his son to become a professional. Roger made this decision himself when he was a teenager. Even today, his parents often accompany Roger Federer on his travels to tournaments all over the world.
The tennis player Roger Federer: his wife and the wedding
Roger Federer met his future wife and mother of his children at the Sydney Olympics in 2000. She was born as Miroslava ("Mirka") Vavrinec on April 1, 1978 in Bojnice in the former Czechoslovakia. She emigrated to Switzerland with her parents in 1980. Mirka worked as a professional tennis player from 1998 to 2002. Her greatest achievement was reaching the third round of the 2001 US Open. A year later, she ended her professional career due to a foot injury.
After Roger and Mirka had been a couple for almost nine years, they married in April 2009. In addition to the parents of the bride and groom, only 35 other guests attended the wedding. In interviews, Roger Federer often emphasizes that his marriage is very happy. His wife accompanies him at all important tournaments to support him.
Dijana Djokovic reveals the most difficult match of Novak's to watch
The mother of World No. 1 Novak Djokovic says watching her son at the Wimbledon singles final last year was the most difficult time she has had while watching her son play in his career. Djokovic came back from match points down to defeat Roger Federer in a classic five setter to win the Wimbledon title in July even as the whole stadium seemed to cheer for the Swiss legend.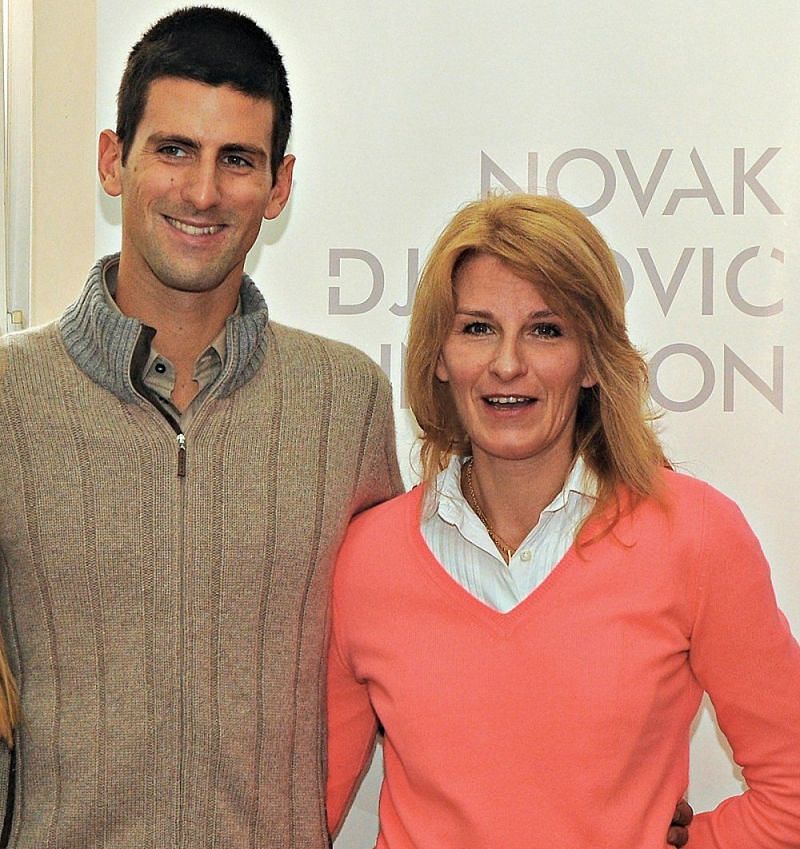 Dijana was speaking in an interview with the Serbian portal "Blic Sport" on the program, "Mothers of Champions" "I saw a lot of his matches, but Wimbledon was the most difficult last year. In a stadium where everyone was cheering on Roger Federer, we were just a handful of fans for Novak.
When Federer had two match points, I reached for my cross from the Don river. I am a believer, I wear the amulet all the time, it often saved me in difficult moments. I said to myself, 'Nole, you can do it, you've done it twice, you can do it again.'
He did it. He was saved by God. Novak also believes in God, he feels chosen. He carries a cross that brings him peace and happiness. It is from the Greek monastery Hilandar. He says his prayers morning and evening," The mother of the 17-time Grand Slam champion also recalled another painful defeat – at the Rio Olympics in 2016, where he lost to World No.
1 Juan Martin del Potro in the first round. "The defeat at the Olympics in Rio still breaks my heart. Novak is a happy child and has no problem crying. But the tears at that time were the biggest I have ever seen with him.
He had all the prerequisites to win gold. The wish was not granted to him. He had this elbow problem and couldn't stand the pressure. He felt that he had disappointed the people in Serbia. We were both very emotional. Maybe he got that from me – sometimes I curse quite a lot."
Dijana also gave some insight about some of the early health problems that Novak suffered during his career. "At the beginning of his career, Novak had many health problems. Because he had to give up a few matches, he was often attacked by the public or by tennis experts.
He had a curvature of the nose wall, it was difficult for him to breathe. After an operation, things went better. In 2010 he was found to be intolerant to gluten. It made life difficult for him. He had to give up in Australia because of the heat.
Then his bleeding toe in Paris in 2007: after playing for five consecutive days, he gave up the semi-final against Nadal. Then everyone accused him, including John McEnroe! I had bandaged his foot the night before the duel. In the morning he could barely walk in slippers.
I advised him not to go to the court, he absolutely wanted to get an injection. Then he beat Nadal 6-2 in the first set. Novak took a medical timeout between sets to bandage the wounds. When Nadal saw the blood, he knew what was going on and then chased him into every corner until Novak had to give up."