Novak Djokovic denied Indian Wells Masters participation
Serbian tennis superstar Novak Djokovic hasn't been allowed to compete at the Indian Wells Masters. Djokovic's name appeared in the Indian Wells Masters main draw, which led to a confusion. Two weeks ago in Dubai, Djokovic said he's unlikely to get the green light to play Indian Wells.


Last month, Djokovic confirmed to the BBC that he's unvaccinated and made it clear he won't take the vaccine just for the sake of being able to play in all tournaments. "Novak Djokovic is on the list of participants in the tournament, and that's why he's also in the tableau," the Indian Wells organizers said in a brief statement.
We are currently in contact with his team."
Djokovic out, Grigor Dimitrov moves into his spot


Djokovic is a five-time Indian Wells Masters champion.
Djokovic captured his first Indian Wells title in 2018, while his second Indian Wells title came in 2012. Djokovic won three consecutive Indian Wells titles between 2014 and 2017. Unfortunately, Djokovic won't compete for his sixth Indian Wells titles.
In an interview with RTS, Djokovic explained his vaccine stance. "As an elite athlete, I want to triple-check everything that enters my body. If something changes for 0.5% in my body, I feel it. I am just cautious before making any decisions, I am taking my time and keeping my mind open.
I will live with the consequences," Djokovic told RTS. "I stand for choice and the autonomy of every individual, that every person has the right to decide in the matter of their health. I don't like being labelled and put in the same category with certain initiatives or movements, I never said I support any of those.


I have always tried to respect everybody's choices, I hope that people can respect mine as well". Next up on Djokovic's schedule is the Miami Masters but nothing can be said with certainty.
Dijana Djokovic reveals the most difficult match of Novak's to watch
The mother of World No. 1 Novak Djokovic says watching her son at the Wimbledon singles final last year was the most difficult time she has had while watching her son play in his career. Djokovic came back from match points down to defeat Roger Federer in a classic five setter to win the Wimbledon title in July even as the whole stadium seemed to cheer for the Swiss legend.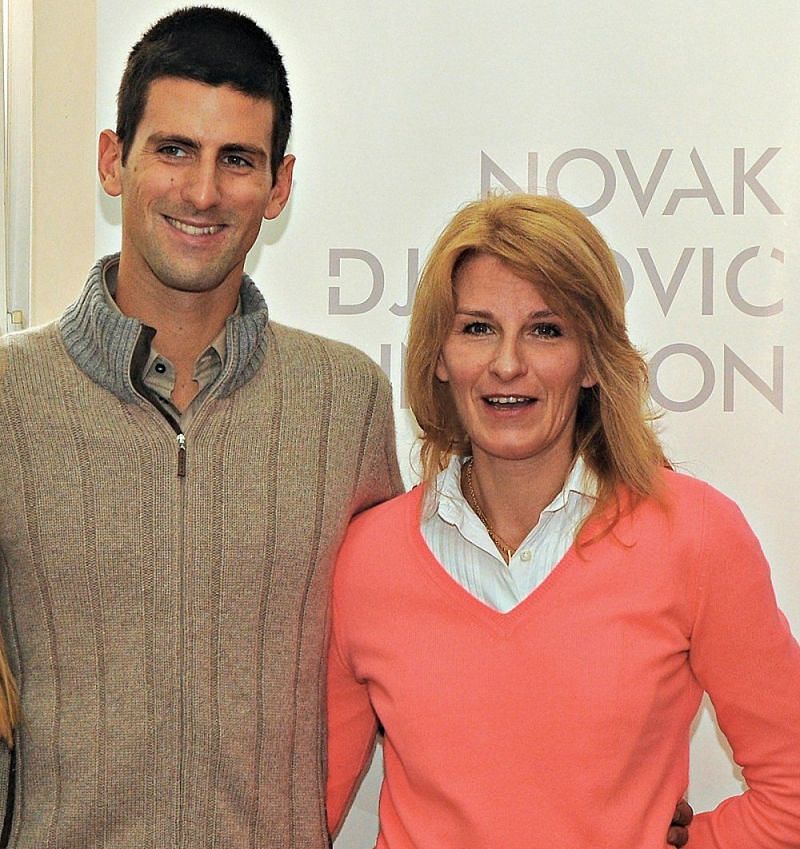 Dijana was speaking in an interview with the Serbian portal "Blic Sport" on the program, "Mothers of Champions" "I saw a lot of his matches, but Wimbledon was the most difficult last year. In a stadium where everyone was cheering on Roger Federer, we were just a handful of fans for Novak.
When Federer had two match points, I reached for my cross from the Don river. I am a believer, I wear the amulet all the time, it often saved me in difficult moments. I said to myself, 'Nole, you can do it, you've done it twice, you can do it again.'
He did it. He was saved by God. Novak also believes in God, he feels chosen. He carries a cross that brings him peace and happiness. It is from the Greek monastery Hilandar. He says his prayers morning and evening," The mother of the 17-time Grand Slam champion also recalled another painful defeat – at the Rio Olympics in 2016, where he lost to World No.
1 Juan Martin del Potro in the first round. "The defeat at the Olympics in Rio still breaks my heart. Novak is a happy child and has no problem crying. But the tears at that time were the biggest I have ever seen with him.
He had all the prerequisites to win gold. The wish was not granted to him. He had this elbow problem and couldn't stand the pressure. He felt that he had disappointed the people in Serbia. We were both very emotional. Maybe he got that from me – sometimes I curse quite a lot."
Dijana also gave some insight about some of the early health problems that Novak suffered during his career. "At the beginning of his career, Novak had many health problems. Because he had to give up a few matches, he was often attacked by the public or by tennis experts.
He had a curvature of the nose wall, it was difficult for him to breathe. After an operation, things went better. In 2010 he was found to be intolerant to gluten. It made life difficult for him. He had to give up in Australia because of the heat.
Then his bleeding toe in Paris in 2007: after playing for five consecutive days, he gave up the semi-final against Nadal. Then everyone accused him, including John McEnroe! I had bandaged his foot the night before the duel. In the morning he could barely walk in slippers.
I advised him not to go to the court, he absolutely wanted to get an injection. Then he beat Nadal 6-2 in the first set. Novak took a medical timeout between sets to bandage the wounds. When Nadal saw the blood, he knew what was going on and then chased him into every corner until Novak had to give up."