Rafael Nadal: 'I'm sad, I wanted to enter the clay season undefeated'
After four tournaments, Rafael Nadal is 20-1 in 2022, winning three titles and losing the Indian Wells final. The Spaniard had to skip the second part of the previous season due to a foot injury, and he made an incredible start this January to stop the clock and extend his legacy.
Nadal claimed the record-breaking 21st Major crown in Melbourne, lifting the first Australian Open crown in 13 years and going all the way in Acapulco in February. Seeking the fourth consecutive title in Indian Wells and the first in the desert since 2013, Rafa played well to reach the 53rd Masters 1000 title match.
The Spaniard defeated Sebastian Korda from 5-2 down in the final set to avoid an early setback and toppled Daniel Evans and Reilly Opelka to advance into the quarter-final. A three-time champion prevailed over Nick Kyrgios to set a thrilling clash against the young Spaniard Carlos Alcaraz.
Rafael Nadal suffered the season's first loss in the Indian Wells final.
Feeling problems with his left rib, Nadal battled past the youngster 6-4, 4-6, 6-3 in three hours and 12 minutes, suffering but giving his best to cross the finish line first and extend the winning streak.
Fighting for the title, Rafa experienced a 6-3, 7-6 loss to Taylor Fritz in two hours and six minutes, wasting his chances in the second set and settling with the runner-up prize. Nadal stated that he wanted to enter the clay season undefeated, feeling sad about not giving his best in the title clash.
Also, the Spaniard was worried about the injury, and his concerns have proven correct, as he has to skip four or six weeks to heal it. "To be honest, I wanted to enter the clay swing undefeated. I could not give my best, which makes me sad, especially after the final.
Still, I do not want to talk about the past; it was a difficult day for me, and I have to look forward. I'm not the kind of person that goes down or acts very emotionally. I'm stable, and I'm putting everything into perspective.
The last two months have been unforgettable. A few months ago, I could have never thought about achieving all this. Now, I have to solve the problem with my injury as soon as possible and continue my season on clay. It's a special part of the year for me, and every tournament is important.
I hope I will be ready. I'm a bit worried about what's going on with my rib, and I have no idea how long it will take to heal it," Rafael Nadal said.
Maria Sharapova speaks about why she called Rafael Nadal the GOAT
A couple of weeks ago or so Maria Sharapova had a hit session with Rafael Nadal. The Russian posted a video saying that the Spaniard was the greatest player of all time. Now she reflected on it and said: 'I think it's pretty remarkable what he's done in his career.
I think when you get to a certain point, you know, those numbers, I mean, there are a lot of people that can be considered greatest of all time, right? I don't know if, when you're that successful, if it's even fair to measure them in numbers, because you don't want to take anything away from somebody else that's achieved maybe just as much or maybe even more or a little bit less. Yeah, I have a lot of admiration for him.
I have loved the spirit that he carries on with, you know, the focus. You know, it goes back to kind of the fire question. I think he only knows how to go at 100%. If you look at the practice schedule, I mean, he's out there for — he won two events, and in Rome, he's practicing for three hours a day, he knows that that's what works for him and he's going to deliver that no matter his age, no matter the injuries, he shows up.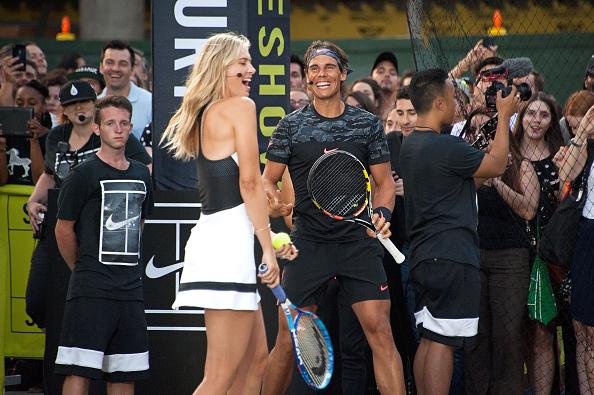 That's incredibly admirable, because the older you get in this sport, the more physical it is, tougher it is on the body. We know that. Of course I admire not just him but there are many players that I admire on that level.'