Lewis Hamilton frustrated by FIA jewellery rules at Miami Grand Prix build-up
Lewis Hamilton has called on Formula 1's governing body the FIA to back down in its strict approach to drivers wearing jewellery in their cars.
Race director Niels Wittich reiterated before the inaugural Miami Grand Prix it is prohibited to wear body piercings or neck chains in competition.
Hamilton described the new focus on the issue as "almost a step backwards".
"It seems unnecessary to get into this. I am here to be an ally of the sport – we have bigger fish to fry," he said.
Hamilton, the driver who wears most jewellery out of the car, said that when in it he only wore "earrings and nose ring, which I can't remove".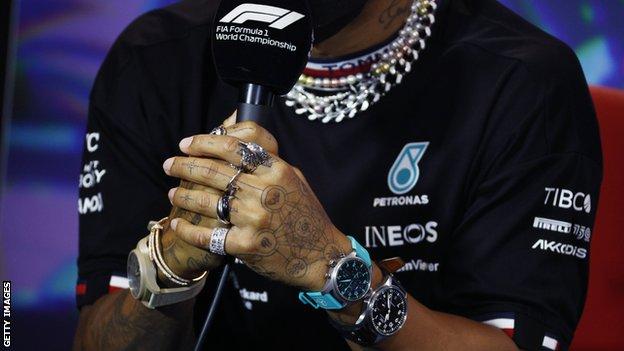 It is a new issue this year following the FIA's decision to change its race director in the wake of the controversy at last year's title-deciding Abu Dhabi Grand Prix. Wittich has taken a less flexible approach to many areas of the rule book than had been the case in the past.
Hamilton said he had reached out to FIA president Mohammed Ben Sulayem on Friday to try to resolve the stand-off but had not managed to get through.
"I am willing to sign a waiver to take the responsibility away from them if necessary," the seven-time champion said. "It is about individuality and being who you are.
"I did try calling Mohammed this morning and I think he was super busy but I sent him a message. I wanted to reassure him and said: 'I want to be an ally. I don't want to fight with you guys over this.'"
He added: "It has never been a safety issue in the past. If they stop me, we have a spare driver. There are lots of things to do here."
Before first practice in Miami, the FIA issued a further document emphasising that Mercedes "had not confirmed… that he is complying with the requirement to not wear any jewellery, in the form of body piercing or metal neck chains or watches".
Ben Sulayem was then seen going into a meeting with Mercedes team principal Toto Wolff.
The issue is highly unlikely to be taken so far as stopping a driver racing.
Hamilton was backed by colleagues, including Alpha Tauri driver Pierre Gasly.
The Frenchman said: "I do believe there are bigger things to focus on. I appreciate the FIA are looking after our safety. But in my case I am religious and there are things I have with me that I do not feel comfortable not having in the car.
"In the end, we are the ones who go out there and put our lives at risk and I do feel it should be a personal choice. I hope in the end we could find a better solution than this very strict one."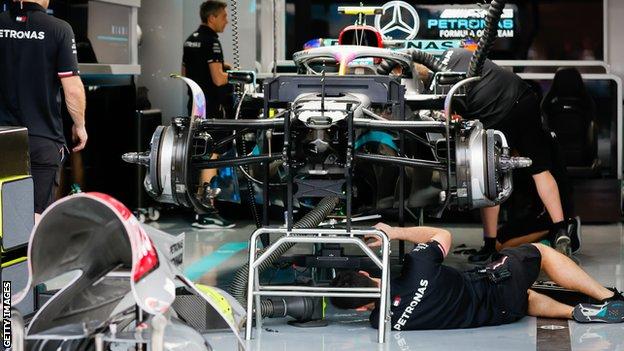 Hamilton shrugs off critics
Hamilton has had a difficult start to season in a Mercedes team whose car is not competitive.
In the last race, he was lapped by world champion Max Verstappen after being stuck behind slower cars, which prompted Red Bull motorsport adviser Helmut Marko to say after the race that perhaps Hamilton should have retired at the end of last year.
Hamilton said: "I don't listen to those silly comments, to be honest. It has been interesting to see – there have been quite a lot of disrespectful comments I have seen over time, but it's to be expected.
"I just keep my head down. I know who I am. I love what I do.
"[We're] going through a tough time, didn't come out the starting blocks the way we wanted, but we're fighters and if you don't know that about me, you don't know me. I will keep doing my best to huddle up with the team and fight as hard as we can."
Will Mercedes improve with car developments?
Hamilton said he was not expecting a significant improvement in Mercedes' performance in Miami despite the team bringing their first serious development parts this season to the race.
There are new front and rear wings to try as the team bid to reduce what they believe is their biggest single problem – a high-frequency bouncing on the straights known as 'porpoising', which is promoted by aerodynamic disruption under the car.
But asked whether he expected the developments would improve Mercedes' competitive position, he said: "I don't anticipate that much change in that sense."
How Osaka, Raducanu and Fernandez can learn from Sharapova's growth on clay
While they haven't had early success on clay, Emma Raducanu, Leylah Fernandez and Naomi Osaka can find hope in the example of Maria Sharapova.
The two millimeters of terre battue – iron oxide is what creates that distinctive burnt sienna hue – that cover the courts in Paris can represent a quagmire for the clay novice. It's exceedingly unstable, creating all kinds of physical issues.
Maria Sharapova's first exposure to these horrors ended badly in 2003, with a 6-0, 6-4 loss to Spanish clay-courter Magui Swerna. Sharapova was only 16 years old – but already a big hitter with a promising career underway. Still, nothing suggested she would ever solve the Rubik's Cube that was clay.
After winning a second-round match four years later at Roland Garros, Sharapova uttered an unforgettable quote, saying she felt "like a cow on ice." It brings an immediate (and indelible) image to mind and was a hot topic in 2012 when she actually reached the finals in Paris.
"I can't tell you how many times that I have heard that phrase in the last four weeks from journalists," Sharapova said at the time. "I will give you the standard answer. That I do occasionally still feel like it and, I'm sure, look like it, too."
It wasn't only about movement for Sharapova. It was also the grinding, physical toll exacted from matches where her serve and groundstrokes didn't create as many winners as they did on the faster surfaces. The different muscles that sliding demanded. Early in her career, she never imagined she could put together the seven tough matches required of champions at Roland Garros.
And yet, one decade ago, she defeated Italian Sara Errani 6-3, 6-2 to win her first French Open title. Along with her three previous major triumphs – 2004 Wimbledon, 2006 US Open, 2008 Australian Open – she became only the 10th woman to capture the rare career Grand Slam.
In an irony not lost on Sharapova; she won a second French Open title two years later, beating Simona Halep in a match that ran more than three hours. This, on the surface she once thought to be her worst. Note, her career winning percentages: hard court (.777), grass (.794) – and clay (.815).
So many great players have fallen one particular title short of that personal Slam, among them: Justine Henin, Monica Seles and Martina Hingis. Lindsay Davenport – joined by Pete Sampras and Boris Becker – missed out on the matched set by failing to win at Roland Garros.
The 10th anniversary of Sharapova's breakthrough is a good time to remind those armchair skeptics that it's way too early in the curve to start passing definitive judgments on some of today's young players who already have had success on hard courts
Naomi Osaka won her first major, the 2018 US Open, at the age of 20. Now 24, she's won four majors, all of them on hard courts. Emma Raducanu and Leylah Fernandez played last year's US Open final, but clay remains something beyond their immediate grasp.
Mastering the cloying clay in Paris and the slippery slope of Wimbledon's immaculate grass courts requires a certain diversity of game and the ability to adapt to drastically different conditions. Serena Williams is the only active woman with a personal Grand Slam, and she's done it three times over. Angelique Kerber has won three different majors, but lacks the French Open on her resume; she made the quarterfinals there twice, in 2012 and 2018. Simona Halep and Garbiñe Muguruza have both captured Roland Garros and Wimbledon but have yet to win a hard-court major.
It's been a small sample this year for our young triumvirate. Osaka is 1-1 on clay for 2022, following last year's 2-3 record. Raducanu, this year playing her first clay matches at the level, is an encouraging 5-4. Fernandez went 2-2 in Madrid and Rome. Raducanu and Fernandez are just kids in the sandbox, relatively speaking, trying to figure it out.
"I have definitely learnt that I can kind of adapt to this surface much faster than I probably thought and about how to stay in the point," Raducanu said Friday during Media Day at Roland Garros. "I think my movement on defense has also improved a bit.
"When to play with spin and when to actually hit it hard. You don't have to always just grind it out. Sometimes you can put your hard-court game on a clay court, as well. It's just finding the balance. I think that clay definitely teaches you that."
The first thing they must master, according to 18-time major champion Martina Navratilova, is their movement. Sliding in the dirt, it turns out, is an acquired skill.
"Unless you grew up on the stuff, it's hard to gain that footing," Navratilova said. "You become vulnerable easier on clay, like if you get pushed wide – unless you really know how to slide – you don't recover after the shot as well. And it shows up more, not covering the court as well, with the big hitters, because you can't make up for it as much."
Like Navratilova, Pam Shriver, a tennis analyst for ESPN and Tennis Channel, grew up playing a lot on clay but discovered it didn't suit her big game.
"Eventually, I would just settle in and think, `You know what, I can just play my same game, but I just have to do it just a little bit better,'" Shriver said." If it's a play that works on a faster surface, I just need to do it with a little more conviction. A slightly better angle, a slightly better serve.
"These days, there's not as much difference in the surfaces. Players can bring their same game to all three surfaces and just make their little adjustments here and there."
Ultimately, it all goes back to the example of Sharapova. Toward the end of her career, clay became her most consistent surface. As Shriver noted, look at what Sharapova did – study it – and it could happen to you.
"Clay at the beginning kind of was like written off, 'Oh, it's a clay court, just have a go,'" Raducanu said. "But now I really believe that I can be good and faster than I thought it would be."
With insight from Navratilova and Shriver, who won 20 Grand Slam doubles titles together from 1981-89, including a calendar-year Grand Slam in 1984, a brief examination of how Raducanu, Fernandez and Osaka could make some headway on clay this year at Roland Garros:
Emma Raducanu
French Open seed: No.12
Career records: Hard court:11-9 (.550), Clay: 5-4 (.556), Grass: 3-2 (.600)
Total: 19-15 (.559)
Navratilova: "Raducanu can generate pace and redirects pretty well. But on clay she has to do a lot more. It's harder to find the openings, so you have to hit more shots and pick your spot."
Shriver: "I feel like on the footwork side, I think Raducanu has some potential on clay because it's a little more precise than the other two."
Leylah Fernandez
French Open seed: No. 17
Career records: Hard court: 39-23 (.629), Clay: 7-8 (.467), Grass: 1-2 (.333)
Total: 47-33(.588)
Navratilova: "Leylah doesn't have the big weapons of, say, an Osaka. Those weapons can get you out of trouble on clay. Movement, like with Halep, will have to be her calling card."
Shriver: "Hitting topspin and creating margin, I think is a Fernandez strength. And also being left-handed – the good lefty forehand over the top, gets up high. I like her using that in a positive way on clay."
Naomi Osaka
French Open: Unseeded
Career records: Hard court: 134-57 (.702), Clay: 21-17 (.553), Grass: 11-9 (.550)
Total: 166-83 (.667)
Navratilova: "For Osaka, her big shots don't pay off as well on clay. So she has to hit more balls, and her play is still pretty risky. Eventually, I think Osaka can succeed on clay because of the weapons she has. Sharapova was a bigger hitter, and it worked for her. It can be done. It just takes a while. You just need to put in the miles."
Shriver: "On clay, Osaka's footwork is not as comfortable. Osaka's a little bit older [24] so she's had a longer time to develop some scar tissue about the surface, an unease. Like Sharapova, she can realize if you're a little bit slower, clay actually helps you."