Madrid Open: Carlos Alcaraz beats Rafael Nadal to set up Novak Djokovic semi-final
Carlos Alcaraz continued his impressive rise by shaking off injury to beat Rafael Nadal and set up a Madrid Open semi-final against Novak Djokovic.
The 19-year-old Spaniard produced some superb hitting to beat five-time champion Nadal 6-2 1-6 6-3.
Alcaraz was struggling to move after falling and injuring his right ankle in the second set but managed to regroup to close out a stunning win.
World number one Djokovic earlier beat Hubert Hurkacz 6-3 6-4.
Alcaraz has often been compared to Nadal during his meteoric rise, which has seen him win the Miami Open and break into the top 10 of the world rankings.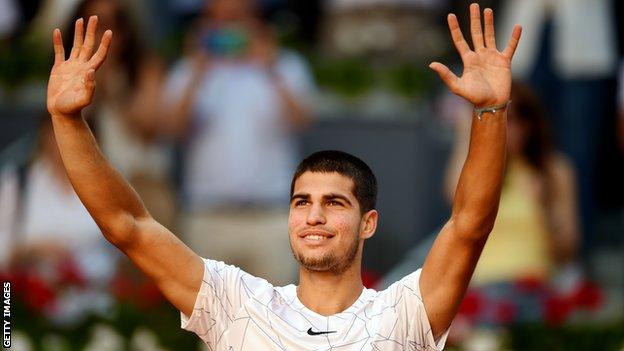 However, this is the first time in three meetings that Alcaraz has beaten the 21-time Grand Slam champion.
Watched on by a number of Real Madrid players after Nadal attended their Champions League semi-final, Alcaraz produced a blistering first-set performance.
The two traded breaks before Alcaraz reeled off five of the final six games, often out-hitting Nadal and out-foxing him with drop shots.
After saving three break points early in the second set Alcaraz fell heavily while sliding for a forehand and received a medical time out to get the injury taped up.
However, he was visibly struggling to put weight on his right foot which affected his serve, and Nadal duly broke and won four games in a row to force the third set.
Alcaraz left the court at the end of the second set and then returned with more of his form from the first set, breaking Nadal to love to get a 3-1 lead.
He then sealed the game in style, whipping a forehand past Nadal into the corner of the court before turning to face his box in disbelief.
He shared a warm handshake with Nadal at the net before writing 'que ha pasado' – 'what happened?' – on the camera.
It is just Nadal's second defeat of the year, with the Spaniard currently making his return from a rib injury.
Alcaraz will now face three-time champion Djokovic, who has reached the semi-finals of the tournament for a seventh time.
Serbia's Djokovic did not face a break point during his 78-minute victory over Poland's Hurkacz.
It is the 72nd time Djokovic has reached the semi-finals of a Masters 1000 tournament. Only Nadal, with 76, has reached the last four more often.
Djokovic reached his first final of the season at the Serbia Open in April but lost to Andrey Rublev.
Rublev takes on Stefanos Tsitsipas later in Madrid, before Felix Auger-Aliassime faces defending champion Alexander Zverev.
Leylah Fernandez explains US Open row over Emma Raducanu timeout
Leylah Fernandez says she was unaware of the rules surrounding Emma Raducanu's dramatic medical timeout in the US Open final after arguing with an official on court.
The Canadian was beaten in straight sets 6-4 6-3 by 18-year-old sensation Raducanu on Saturday, with the Brit becoming the first qualifier ever to win a Grand Slam – and she did so without dropping a set in 10 matches across her three weeks in Flushing Meadows.
There was a moment of controversy though as she served for the match, scraping her knee on the court as she slid for a return with the umpire calling for a medical timeout on break point.
Leylah Fernandez speaks out on row over Emma Raducanu medical timeout during US Open final
Raducanu had blood trickling down her leg (Picture: Getty)
Fernandez, whose growing momentum and crowd support was suddenly quietened, was livid with the decision as timeouts usually only happen on changeovers and argued with both the umpire and the tournament referee.
But the rules state that if a player is bleeding then play must stop immediately so they can be treated, with Raducanu getting patched back up before saving break point and then going on to win the match.
Fernandez was still visibly annoyed afterwards, shaking her head at the timeout which allowed her opponent to recompose herself, though now concedes it was a reaction 'in the heat of the moment'.
More: Tennis
Asked about the situation, the 19-year-old explained at her post-match press conference: 'I honestly did not know what was happening with Emma.
'I didn't know how serious her fall was, so that's why I went to see the official and ask her about it.
'You know what, it just happened in the heat of the moment. It was just too bad that it happened in that specific moment with me, with the momentum. But it's sports, it's tennis. Just got to move on.'
Leylah Fernandez speaks out on row over Emma Raducanu medical timeout during US Open final
The Canadian teen was clearly affected by the stop in play (Picture: Getty)
Fernandez was gracious in defeat and full of praise for Raducanu, feeling that the ever-so-slightly younger Brit capitalised on her mistakes in what was a high-quality final at the Arthur Ashe Stadium.
She continued: 'Emma is a very good player. She's been playing incredibly these last few months with a lot of confidence.
'I unfortunately today did one too many mistakes. I think Emma noticed it and she just took advantage of it. She did good. Hopefully we'll have many more tournaments together and many more finals.'