2022 PGA Championship odds, picks: Tiger Woods predictions by model that nailed Masters finish
Golf legend Tiger Woods is part of the 2022 PGA Championship field at Southern Hills Country Club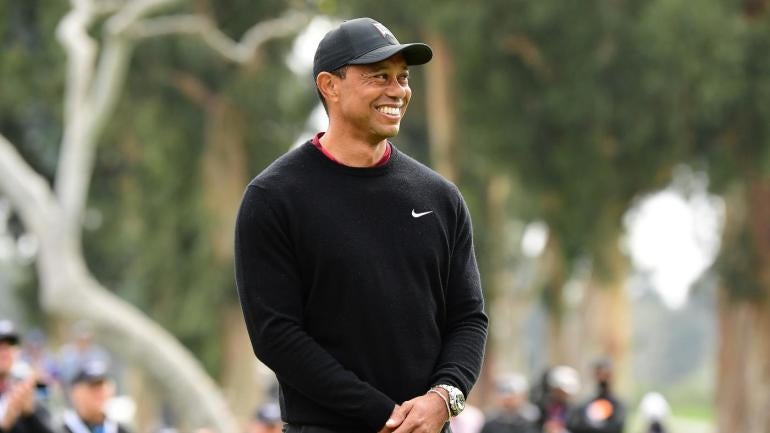 Tiger Woods' success in major tournaments is well-documented, but the PGA Championship hasn't been one of his best in recent years. Outside of a second-place finish in 2018 a year after his return from spinal fusion surgery, he has missed the cut in three of his last five appearances and finished 37th in 2020. Woods has yet to confirm if he will play in the PGA Championship 2022, which will be held at Southern Hills Country Club starting Thursday, May 19, but he's still in the 2022 PGA Championship field.
Woods had a few inspiring moments in his return to competitive play at the Masters in April, but finished 47th. He's currently 40-1 to win in the 2022 PGA Championship odds from Caesars Sportsbook, but should he choose to play in another major, he'll have to top Masters champion Scottie Scheffler (11-1), Jon Rahm (11-1) and Collin Morikawa (14-1), just to name a few. Before locking in your 2022 PGA Championship picks, be sure to see the golf predictions and projected leaderboard from the proven computer model at SportsLine.
SportsLine's proprietary model, built by DFS pro Mike McClure, has been red-hot since the PGA Tour resumed in June 2020. In fact, it's up almost $7,500 on its best bets since that point, nailing tournament after tournament.
At the 2022 Masters, McClure's model was all over Scottie Scheffler's first career major championship victory heading into the weekend. The model also nailed Tiger Woods' exact finishing position at Augusta National before the tournament started (47th). In addition, McClure's best bets included Collin Morikawa winning outright at the 2021 Open Championship, even though he was listed as a massive 40-1 long shot.
This same model has also nailed a whopping eight majors entering the weekend. Anyone who has followed it has seen massive returns.
Now that the 2022 PGA Championship field is taking shape, SportsLine simulated the event 10,000 times, and the results were surprising. Head to SportsLine now to see the projected 2022 PGA Championship leaderboard.
Model's top 2022 PGA Championship predictions
One huge shocker the model is calling for at the PGA Championship 2022: McIlroy, a 20-time PGA Tour champion and one of the top favorites, stumbles at Southern Hills and barely cracks the top 10. McIlroy finished second at the Masters on the strength of a final-round 64, but had to overcome matching rounds of 73 on the first two days.
His play at recent PGA Championships isn't very encouraging, either, as he's finished in the top 10 just once in his last seven attempts following his 2014 win. McIlroy finished plus-five in last year's event after an opening-round 75. Starting slowly in majors and having to play his way out of the holes he digs for himself has become a more regular occurrence than sustained strong play, and the model believes that trend will continue at the PGA Championship 2022.
The model has also revealed where Tiger Woods will finish in the 2022 PGA Championship. After suffering a serious car accident in February 2021, Woods made an unexpected return at the 2022 Masters and impressed by managing one of the most challenging courses to walk on the PGA Tour and making the cut in his first tour-sanctioned event in 17 months. Now, he's been seen playing practice rounds at Southern Hills in an effort to gauge whether his body is ready for another major championship test, but course knowledge should once again be on his side if he plays.
Woods tied the course record by shooting a 63 in the second round of the 2007 PGA Championship before cruising to a two-shot victory to win his 13th major championship. While he's no longer the most physically dominant player in the field, he proved at the 2019 Masters that he can use guile to stay competitive. While Woods' game was further along than most expected at the Masters, it's clear he'll need to make strides to be serious contender at Southern Hills after finishing 23 shots behind Scheffler at Augusta. He's finished on top of the leaderboard four times at the PGA Championship, and the model just locked in its Tiger Woods PGA Championship picks here.
How to make 2022 PGA Championship picks
The model is also targeting three golfers with odds of 20-1 or longer who will make surprising runs. Anyone who backs these long shots could hit it big. You can only see them here.
Who will win the 2022 PGA Championship, which long shots will stun the golfing world, and where will Tiger Woods finish? Check out the latest 2022 PGA Championship odds below and then visit SportsLine to see the projected PGA Championship 2022 leaderboard, all from the model that has nailed eight golf majors and is up nearly $7,500 since the restart.
2022 PGA Championship odds, field
Scottie Scheffler +1100
Jon Rahm +1100
Rory McIlroy +1200
Collin Morikawa +1400
Justin Thomas +1400
Dustin Johnson +1600
Cameron Smith +1600
Brooks Koepka +1800
Viktor Hovland +2000
Jordan Spieth +2000
Bryson DeChambeau +2000
Patrick Cantlay +2000
Xander Schauffele +2200
Shane Lowry +2500
Will Zalatoris +3000
Hideki Matsuyama +3500
Daniel Berger +3500
Tony Finau +3500
Louis Oosthuizen +4000
Sam Burns +4000
Tyrrell Hatton +4000
Joaquin Niemann +4000
Tiger Woods +4000
Sungjae Im +4500
Patrick Reed +5000
Abraham Ancer +5000
Corey Conners +5000
Matthew Fitzpatrick +5000
Tommy Fleetwood +5000
Webb Simpson +5000
Paul Casey +5000
Adam Scott +6500
Justin Rose +6500
Marc Leishman +6500
Luke List +6500
Jason Day +6500
Si-Woo Kim +8000
Keegan Bradley +8000
Rickie Fowler +8000
Gary Woodland +8000
Jason Kokrak +8000
Sergio Garcia +8000
Harris English +8000
Billy Horschel +8000
Thomas Pieters +10000
Matthew Wolff +10000
Cameron Tringale +10000
Christiaan Bezuidenhout +10000
Charl Schwartzel +10000
Bubba Watson +10000
Lee Westwood +10000
Max Homa +10000
Brian Harman +10000
Seamus Power +10000
Russell Henley +10000
Phil Mickelson +10000
Robert Macintyre +10000
Matt Wallace +10000
Ian Poulter +12500
Kevin Kisner +12500
Cameron Davis +12500
Cameron Champ +12500
Garrick Higgo +12500
Charley Hoffman +12500
Tom Hoge +12500
Lucas Herbert +12500
Branden Grace +12500
Kevin Streelman +12500
Ryan Palmer +12500
Matt Kuchar +12500
Matt Jones +15000
Francesco Molinari +15000
Harry Higgs +15000
Sepp Straka +15000
Kevin Na +15000
Erik van Rooyen +15000
Bernd Wiesberger +15000
Padraig Harrington +15000
Hudson Swafford +15000
Martin Kaymer +20000
Lucas Glover +20000
10 Roles Scarlett Johansson Could Play In The DCEU
Scarlett Johansson is famous for her role in the MCU, but there are numerous DC characters she'd be great as now that Black Widow's run is over.
Scarlett Johansson was a bonafide A-lister before she joined the Marvel Cinematic Universe. However, her role as Black Widow cemented her as one of cinema's ultimate movie stars and turned her into the highest-grossing actress in Hollywood history, according to Variety.
Black Widow died during Avengers: Endgame, effectively ending Johansson's tenure in the MCU. And now that she's free to pursue other roles, she might consider a stint at Marvel's darker counterpart, the DCEU. After all, there are several DC characters she'd be perfect for, and fans would surely love to see her in the gloom of the DCEU.
Poison Ivy
Fans have wanted to see Poison Ivy in the DCEU for years, but her appearance doesn't seem to be any closer. At this rate, Robert Pattinson's Batman might get to fight Poison Ivy before the Mistress of Plants gets to join Harley and Catwoman as the DCEU's Gotham City Sirens.
Should Ivy join the DCEU, Johansson would be a good albeit safe choice to play her, and fans would also greatly enjoy seeing her romancing Margot Robbie's Harley Quinn. However, an LGBTQ+ actress might be a better choice for the role, so while Johansson would be a perfect fit superficially, Ivy might be better elsewhere.
Starfire
Starfire is best-known as the de-facto leader of the Teen Titans; even as an adult, her connection to the Titans is indelible. The princess of Tamaran has a long history in DC Comics, becoming one of the best-known yet weirdly underrated characters in the canon. Starfire's troubled relationship with Nightwing is another crucial part of her characterization.
Most adaptations traditionally portray Starfire as a teenager, but there are several instances where the character appears as an adult. Should the DCEU choose to go adult with Starfire, Johansson would be the perfect choice to bring her to life. The lack of a Nightwing in the DCEU would also allow Starfire to exist outside the relationship, thus opening the door for a deeper exploration of her character.
Blackfire
On the other hand, Johansson might go the villain route and opt for an antagonistic role in the DCEU. Blackfire, Starfire's evil sister, often acts as a minor villain of the Teen Titans. However, her storyline is interesting enough to warrant a more layered approach in live-action.
Some of Scarlett Johansson's best movies involve her portraying femme fatales, especially during the early years of her career. Blackfire would be a return to those types of roles, and Johannsson would excel in it. Playing an antagonist would also mean Johansson wouldn't have to commit to another long-term engagement, and Blackfire's raven hair would help separate her from Johansson's previous comic book role.
Killer Frost
Several characters have assumed the Killer Frost moniker over the years, with Crystal Frost becoming the first incarnation. The Caitlin Snow version became notorious following the success of the long-running The Flash series, in which she's one of the main characters. However, Louise Lincoln might be the best version, with a rich backstory that would easily translate to the big screen.
Killer Frost is best known for her association with the Suicide Squad. Johansson joining James Gunn's corner of the DC Universe would be a dream come true, and both would probably go all-in with Killer Frost's ruthlessness, turning her into a dangerous yet alluring foe.
Enchantress
And speaking of ruthless members of the Suicide Squad, Enchantress is another name that comes to mind. One of DC's most powerful and dangerous magic beings, Enchantress struggles to maintain her humanity while dealing with the dark personality of The Succubus, the being that grants her magical powers.
Enchantress already appeared in the DCEU, played by Cara Delevigne, but the less said about David Ayer's Suicide Squad, the better. Hardly anyone would be sorry to see Delevingne recast, especially if someone like Scarlett Johansson took over the role. Johansson could perfectly embody the Enchantress' antihero traits, breathing new life into the character.
Baroness Paula Von Gunther
Despite being Wonder Woman's first recurring foe, Baroness Paul Von Gunther remains largely unknown to mainstream audiences. A cold-blooded and ruthless Nazi mastermind, Paula would eventually become the vessel of the demonic entity known as Dark Angel.
The Baroness is one of those DC villains that have tremendous big-screen potential. Johansson would relish the chance to play a devious spy in a WWll, and the Wonder Woman series would certainly benefit from an A-lister playing the villain, especially considering the mixed reception to Cheetah and Maxwell Lord in Wonder Woman 1984.
Superwoman
Unlike other comic book heroes and villains, the Superwoman doesn't have a specific civilian identity; instead, multiple characters have used the moniker over the years, friends and foes alike. However, the most intriguing might be the one that's a member of the Crime Syndicate of America and acts as an evil counterpart for Wonder Woman.
Multiverse stories are all the rage right now, and while DC's version is still a year away, there's always room for more. The third Wonder Woman film could feature Superwoman as the villain, and who better to bring her to life than Johansson? The actress has the physicality and the acting chops to do the character justice.
Giganta
Giganta is one of those Wonder Woman villains fans couldn't help but love. Her origin story is utterly bonkers — she was a gorilla who mutated into a red-haired woman via an experiment –, but that only contributed to her enduring popularity.
The villain in the third Wonder Woman needs to be strong and intimidating enough to make her a real threat, and what's more menacing than a rampaging giantess? Johansson would sink her teeth into the camp aspect of the role, creating an unforgettable rogue that would be equal parts menacing and fun.
Star Sapphire
The second Star Sapphire, Carol Ferris, was one of the best characters introduced during the silver age of comics. She served as Hal Jordan's love interest before becoming the Star Sapphire, a villainous entity that battled her former lover. Ferris would later become an anti-hero and occasional heroine, and the Star Sapphire name would be shared by several women, much like the Green Lantern moniker.
Star Sapphire is an interesting-enough villain to warrant a movie of her own, but she would also work as the antagonist of a Green Lantern project. Johansson would bring some much-needed prestige to the film, and god knows the Lanterns need all the help they can get.
Circe
Circe is arguably Wonder Woman's archenemy. Based on the Greek mythological figure, DC comics depict Circe as a stunningly beautiful woman with considerable magical powers, a massive ego, and a penchant for turning humans into animals. Even so, Circe is not all bad, and she's one of the most prominent DC characters that go from friend to foe and back.
The third Wonder Woman couldn't fail with Circe as the villain. She's deliciously wicked, the kind of villain that would contrast perfectly with Diana's kindness. Johansson would be brilliant as Circe, capturing the character's malevolence perfectly. It would be the definition of perfect casting.