Serena Williams' Husband Got Into A Fiery Feud On Her Behalf
Alexis Ohanian is known for coming to the aide of his famous spouse whether she wants his help or not.
In the sports world, there has been a small sampling of athletes throughout the years that have truly become iconic. For example, people like Michael Jordan, Muhammad Ali, Wayne Gretzky, Usain Bolt, Tom Brady, Tiger Woods, and the Williams sisters have cemented their legacies as absolute legends. Of course, just because those athletes can rest assured they will go down in history as all-time greats, that doesn't mean that their lives are easy.
In the years since Serena Williams became a superstar, she has been forced to overcome a lot. For example, Serena has to cope with the pressures of competing against her sister Venus, random people judging her diet, and so much more. On the bright side, it has become clear that Serena doesn't have to go through everything on her own. After all, Serena's husband has proven that he is willing to come to her defense in a very public way in the past.
Why Did Serena Williams' Husband, Alexis Ohanian, Had A Feud With Ion Tiriac
In the world, there are millions of people who care deeply about sports. Fortunately for them, there are more avenues to follow the sports world than at any other time in the past. After all, sports talk is a staple of the radio, ESPN remains a television powerhouse, and there are countless places to discuss sports on the internet. As a result of all the coverage that sports get, athletes like Williams make a lot of money from endorsement deals which is a good thing for them. On the other hand, they also have to become used to dealing with the slings and arrows that people throw at them.
Even though dealing with criticism is a given for professional athletes, sometimes the comments made about sports stars cross over a line. Unfortunately for Serena Williams, anyone who has followed her career will know that she has to deal with that far too often. For example, when Willams was asked if she was "intimidated" by an opponent's "supermodel looks", many people took the question as disrespectful for obvious reasons.
As annoyed by that question as fans were, the comments that Romanian businessman and former tennis player Ion Tiriac has made about Serena Williams are what truly outraged her husband. For example, in 2018 Tiriac was asked about Williams and even though she is an absolute legend, his first instinct was to body shame her. "With all due respect. 36 years old, weighs 90 kilograms. I would also like something different for women." When asked about that comment, Williams didn't mince words. "I'll talk to him, believe me, I'll talk to him," she promised. "His comment is unqualified and sexist – and maybe he's an ignorant man."
Amazingly enough, Ion Tiriac went on to call Serena Willaims out again after that when he remarked she "does not move as easily as she did 15 years ago due to her age and weight". Still not through, Tiriac went on to say of Williams, "if she had a little decency, she would retire".
https://twitter.com/alexisohanian/status/1345903100259926016?ref_src=twsrc%5Etfw%7Ctwcamp%5Etweetembed%7Ctwterm%5E1345903100259926016%7Ctwgr%5E%7Ctwcon%5Es1_c10&ref_url=https%3A%2F%2Fwww.thethings.com%2Fserena-williams-spouse-alexis-ohanian-feud%2F
Based on Ion Tiriac's comments about Serena Williams, her husband Alexis Ohanian began a feud with the businessman and former tennis player. In 2021, that feud crescendoed when Ohanian took to Twitter to call Tiriac out in a trio of posts. "Safe to say no one gives a damn what Ion Țiriac thinks." "Had to Google it… turns out my 3 year old has more Grand Slam victories than this 🤡🤡" "2021 and no holding back when a racist/sexist clown with a platform comes for my family."
Alexis Ohanian Called Out The Herald Sun's Editor
At this point in Serena Williams' life and career, it should be clear to everyone that she doesn't need anyone to fight her battles. However, it still must feel nice for her when someone she loves sticks their neck out to defend her.
After Serena Willaims lost in the finals of the 2018 US Open to Naomi Osaka, she came under a lot of criticism for her behavior during the match. While debating Williams' behavior was fair, some people took their criticism of her in deeply offensive directions. For example, Mark Knight drew a cartoon about Williams that was published by the Herald Sun which was extremely controversial, to say the least.
https://twitter.com/abcmelbourne/status/1099783578387283970?ref_src=twsrc%5Etfw%7Ctwcamp%5Etweetembed%7Ctwterm%5E1099783578387283970%7Ctwgr%5E%7Ctwcon%5Es1_c10&ref_url=https%3A%2F%2Fwww.thethings.com%2Fserena-williams-spouse-alexis-ohanian-feud%2F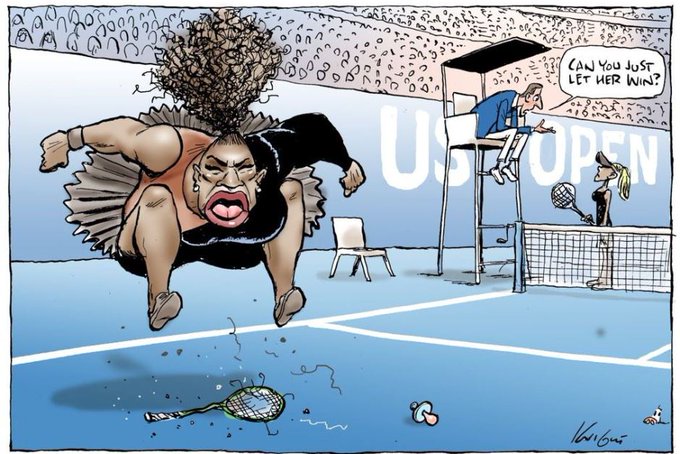 Roger and Mirka Federer Have His & Hers Rolex Watches
Roger and Mirka Federer were probably at home enjoying another picturesque morning in Valbella, Switzerland, boning up on their King James Bible, when they stumbled on this line in Ecclesiastes 4:9-12: "Two are better than one." Because, earlier this week, the Federers lived the maxim when they were both spotted wearing top-notch Rolex watches. For if one Rolex fails, the other one will keep on ticking for its fellow. This is the type of attitude expected
from GQ's Most Stylish Man of the Decade. The honor isn't earned through an inward, self-centered devotion to dressing well, but from a mindset that permeates everything around him—if Mr. Federer is wearing a great Rolex, Mrs. Federer surely needs to have one on her wrist as well. And what a week in watches it was: Jay-Z is back with another icon, and everyone else unleashed their best bling.
MELBOURNE AUSTRALIA JANUARY 30 Roger Federer of Switzerland speaks during his post match press conference on day eleven…
Morgan Hancock
A silver rolex with a black dial
Switzerland's Roger Federer's wife Mirka Federer takes pictures after Federer defeated Serbia's Filip Krajinovic during…
Greg Wood

A silver rolex with a diamond encrusted rainbow dial
Roger Federer's Rolex Day-Date II and Mirka Federer's Rolex Cosmograph Daytona "Rainbow"
Apologies to Roger, but he must hold two Ls this week. The first is for falling to Novak Djokovic in the semifinals at the Australian Open. The second is about watches. Because Rog's Day-Date II is nice and all, but pales in comparison to the watch his wife wore while watching the match from the stands. Her Rolex Daytona, with a spectrum of sapphires circling around the bezel, is aptly nicknamed the "Rainbow"—fitting not just for the obvious reason, but because every time one appears it's a day-brightening treat. Mr. Federer is a longtime Rolex ambassador; we'd suggest the brand sign up his wife, too.
BEVERLY HILLS CALIFORNIA JANUARY 25 JayZ performs onstage during the PreGRAMMY Gala and GRAMMY Salute to Industry Icons…
Lester Cohen
A square watch with a gold dial and body
Jay Z's Jaeger LeCoultre Grande Reverso Ultra Thin "Tribute 1931"
You'd be forgiven for thinking that Jay-Z had already hit Watch Bingo. He wore a reversible $2.2 million Patek Philippe, a super-modern Audemars Piguet Royal Oak, a $2.5 million completely unique Richard Mille, plus—and this one was a toughie—he used $40,000 Rolex Daytonas as invites to his gala. But last weekend at the Grammys, Jay-Z showed that his watch knowledge goes deeper than the biggest names in timepieces. He wore yet another watch with a flippable case, this time the iconic Reverso from Jaeger-LeCoultre. It was first released in 1931 and Jay is wearing the rose-gold 80th-anniversary edition—one of only 500 in the world.
LOS ANGELES CA JANUARY 26 Trevor Noah attends the 62nd Annual Grammy Awards at Staples Center on January 26 2020 in Los…
David Crotty
A gold watch with a red and blue diamond dial and a diamond encrusted face
Trevor Noah's Rolex GMT Master-II
In 1993, the world was introduced to a revolutionary new product. It bucked the norms of how we expected it to appear—as it had appeared for many decades—by spilling out into your cup as a completely clear liquid rather than the bubbly brown cola people were accustomed to. This product was Crystal Pepsi, and it was not long for this world. In 2020, Trevor Noah brought to Music's Biggest Night another revolutionary new product. This new product, released in the spring of 2019, is also a twist on a classic, but we think this one has the power to stick around forever. And, for what should be obvious reasons, it only makes sense we would also call this the "Crystal Pepsi" Rolex.
Former NBA star and owner of Charlotte Hornets team Michael Jordan looks on as NBA commissioner Adam Silver addresses a…
Fracnk Fife
A silver rolex with a blue face
Michael Jordan's Rolex Sky-Dweller
Indefatigable, a global icon, ruthlessly competitive, an innovator, made for flying: these are just a few words and phrases I would use to describe the Rolex Sky-Dweller. Oh, and Michael Jordan, too, last seen pumping up the NBA's game in Paris between his Charlotte Hornets and the Milwaukee Bucks. His Sky-Dweller, like the GMT, was made for exactly this type of world travel, allowing its wearer to see the time in two different places at once. (Funnily enough, this watch's reference number starts with the number "32," which, flipped around is—well, you know!)
LOS ANGELES CA JANUARY 24 Mark Wahlberg is seen on January 24 2020 in Los Angeles California.
Bauer-Griffin
A black watch with a green dial
Mark Wahlberg's Patek Philippe Perpetual Calendar 5271P
Mark Wahlberg's watches are always a step or two or 100 above what the situation calls for. The actor wears Patek Philippe's Nautilus during a day on the beach and even swims in the ocean with it. It only makes sense he would need a watch set with 52 emeralds for a casual night out.
LOS ANGELES CALIFORNIA JANUARY 26 DJ Khaled and John Legend emrbace during the 62nd Annual GRAMMY Awards at STAPLES…
Kevin Winter

A silver watch with a diamond encrusted face and dial
John Legend's Rolex Cosmograph Daytona
Typically an Audemars Piguet guy, John Legend busted out something special and different for the Grammys Sunday night. Legend's version of the Rolex Daytona is so blinged out it makes even Federer's Rainbow edition look humble and understated. This is what we talk about when we talk about "iced-out" watches: there are 437 diamonds on this piece alone. Amazingly, they are all factory set, meaning it's the work of Rolex rather than an after-market jeweler.