Novak Djokovic criticises Wimbledon's 'crazy' ban on Russian and Belarusian players
Russian and Belarusian players have been banned from competing at Wimbledon and in all LTA grass court tournaments this summer; Reigning men's singles champion Novak Djokovic criticised the decision, as have the ATP and WTA founder Billie Jean King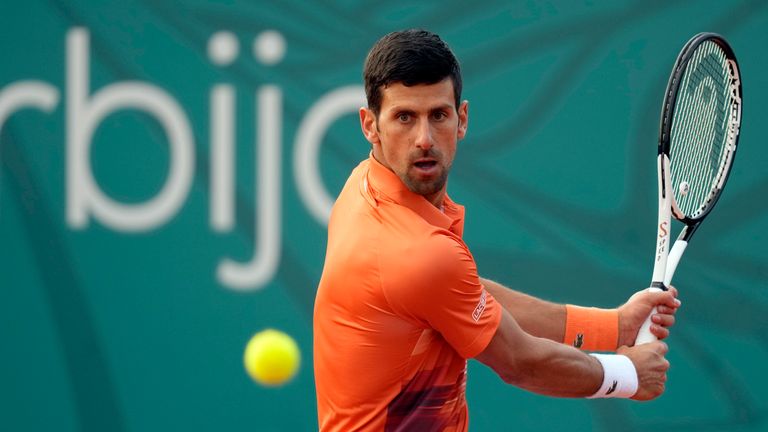 Novak Djokovic has branded the decision to ban Russian and Belarusian players from competing at Wimbledon this year as "crazy".
The All England Club made the announcement on Wednesday, ruling out, among others, US Open champion and world No 2 Daniil Medvedev, men's world No 8 Andrey Rublev and women's fourth-ranked Aryna Sabalenka from featuring in the Grand Slam.
But, speaking at the Serbia Open on Wednesday, reigning Wimbledon men's singles champion and six-time winner Djokovic expressed his disagreement for the organisers' stance.
"I will always condemn war, I will never support war being myself a child of war," Djokovic said.
"I know how much emotional trauma it leaves. In Serbia we all know what happened in 1999. In the Balkans we have had many wars in recent history.
"However, I cannot support the decision of Wimbledon, I think it is crazy. When politics interferes with sport, the result is not good."
Djokovic, in action in the quarter-finals of the Serbian Open on Thursday, recovered from a set down to defeat compatriot Miomir Kecmanovic 4-6 6-3 6-3.
The world No 1 had survived a deciding tie-break against Laslo Djere on Wednesday and again found himself up against it against Kecmanovic before coming back from a break down in the second set to clinch a semi-final spot, where he will face either Karen Khachanov or Thiago Monteiro.
Sports Minister welcomes Wimbledon's 'decisive action'
Of the players now banned from competing at Wimbledon in June and July, Medvedev reached the fourth round of Wimbledon last year, while Sabalenka was a beaten semi-finalist.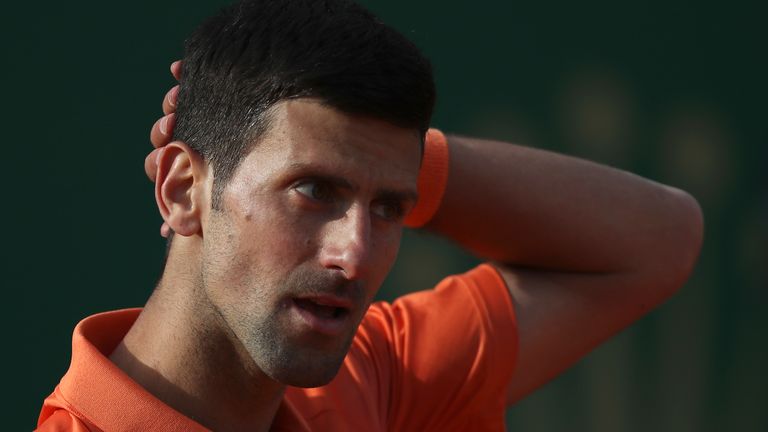 I cannot support the decision of Wimbledon, I think it is crazy. When politics interferes with sport, the result is not good.
Novak Djokovic
Russian world No 15 Anastasia Pavlyuchenkova and Belarus' Victoria Azarenka – a two-time Australian Open champion – will also miss out. Russian and Belarusian players have also been banned from LTA grass court tournaments this summer.
The All England Club said in a statement: "We share in the universal condemnation of Russia's illegal actions and have carefully considered the situation in the context of our duties to the players, to our community and to the broader UK public as a British sporting institution."
The statement went on to say: "If circumstances change materially between now and June, we will consider and respond accordingly."
Ian Hewitt, chairman of the All England Club, said: "We recognise that this is hard on the individuals affected, and it is with sadness that they will suffer for the actions of the leaders of the Russian regime.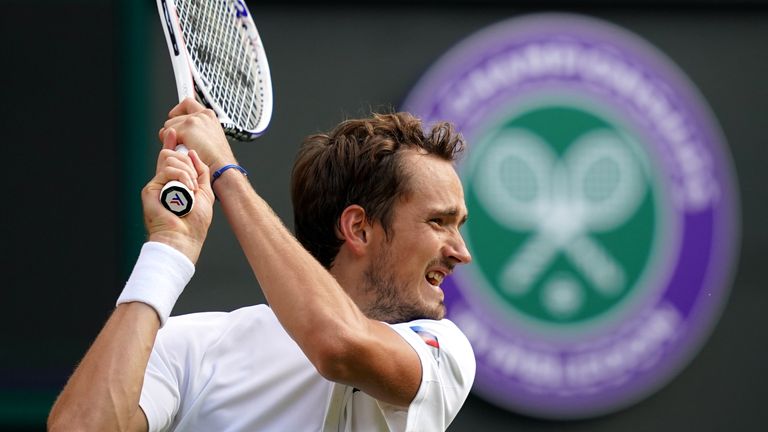 "We have very carefully considered the alternative measures that might be taken within the UK Government guidance but, given the high profile environment of The Championships, the importance of not allowing sport to be used to promote the Russian regime and our broader concerns for public and player (including family) safety, we do not believe it is viable to proceed on any other basis at The Championships."
Sports Minister Nigel Huddleston welcomed the "decisive action" taken by Wimbledon, saying: "The UK has taken a leading role internationally to make clear that President Putin must not be able to use sport to legitimise Russia's barbaric invasion of Ukraine.
"Whilst the withdrawal of individual athletes is a complex issue that will divide opinion, there is a bigger cause at stake.
"We have set out our position with sport governing bodies and event organisers and will continue to encourage them to take appropriate action for their sport."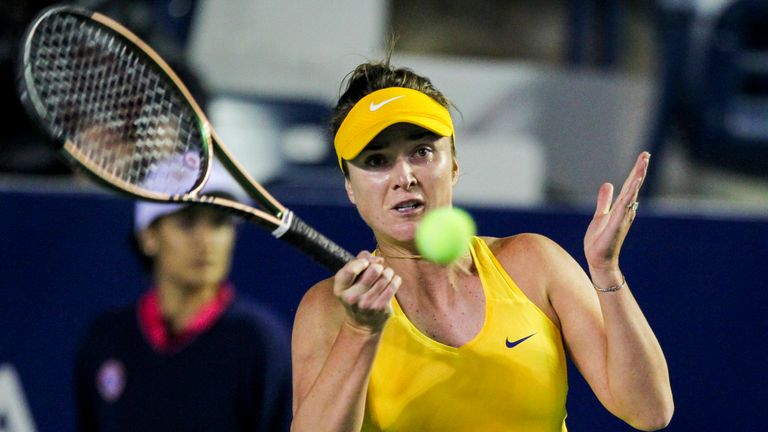 However, Ukraine's former world No 3 Elina Svitolina believes it is better for Russian and Belarusian players to speak out against the war in her homeland, with them being allowed to participate if they do so.
"The best way is not to ban them completely, but make them speak about the war in Ukraine, to ask them if they support the invasion in Ukraine, if they support the government," Svitolina told Sky News.
"And if they can answer those questions and if they say they that don't support it [the war], they don't support Putin, they don't support Lukashenko, then they would be allowed to participate."
WTA founder Billie Jean King express concerns over ban
Djokovic's stance mirrors that of the ATP and WTA, with both organisations releasing a statement on Wednesday expressing their concern over the ban.
WTA founder Billie Jean King said that the Grand Slam's decision was a "complex undertaking" amid the challenges and pressures they are facing but added she "cannot support" the move.
"One of the guiding principles of the founding of the WTA was that any girl in the world, if she was good enough, would have a place to compete," King said.
"I stood by that in 1973 and I stand by that today. I cannot support the banning of individual athletes from any tournament, simply because of their nationality."
To date, Russian and Belarusian athletes have been permitted to continue playing in ATP, WTA and ITF competitions as long as they do so under a neutral flag and with no anthem played.
An ATP statement read: "We strongly condemn Russia's reprehensible invasion of Ukraine and stand in solidarity with the millions of innocent people affected by the ongoing war.
"Our sport is proud to operate on the fundamental principles of merit and fairness, where players compete as individuals to earn their place in tournaments based on the ATP Rankings.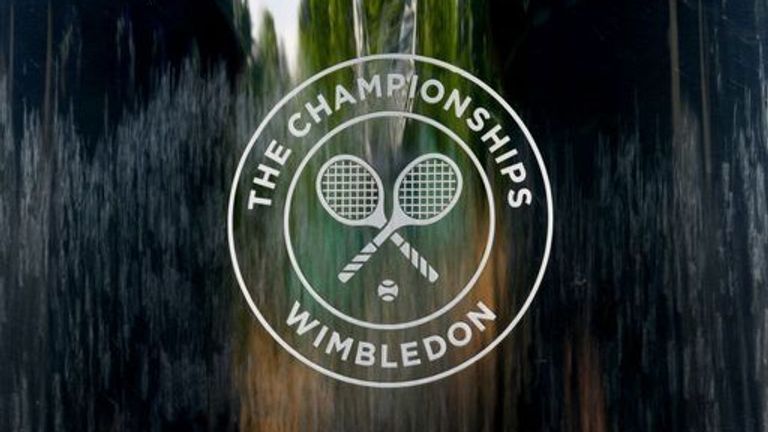 "We believe that today's unilateral decision by Wimbledon and the LTA to exclude players from Russia and Belarus from this year's British grass-court swing is unfair and has the potential to set a damaging precedent for the game.
"Discrimination based on nationality also constitutes a violation of our agreement with Wimbledon that states that player entry is based solely on ATP Rankings.
"Any course of action in response to this decision will now be assessed in consultation with our Board and Member councils.
"It is important to stress that players from Russia and Belarus will continue to be allowed to compete at ATP events under a neutral flag, a position that has until now been shared across professional tennis.
"In parallel, we will continue our joint humanitarian support for Ukraine under Tennis Plays for Peace."
A WTA statement read: "The WTA strongly condemns the actions that have been taken by Russia and its unprovoked invasion of Ukraine. We continue our humanitarian relief efforts to support Ukraine through Tennis Plays for Peace.
"We are, however, very disappointed in today's announcement by the AELTC and the LTA to ban individual athletes who are from Russia and Belarus from competing in the upcoming UK grass court events. A fundamental principle of the WTA is that individual athletes may participate in professional tennis events based on merit and without any form of discrimination.
"That principle is expressly set forth in our rules and has been agreed to by both AELTC and LTA. Prohibitions against discrimination are also clearly expressed in their own rules and the Grand Slam rules.
"As the WTA has consistently stated, individual athletes should not be penalized or prevented from competing due to where they are from, or the decisions made by the governments of their countries.
"Discrimination, and the decision to focus such discrimination against athletes competing on their own as individuals, is neither fair nor justified. The WTA will continue to apply its rules to reject discrimination and ensure that all athletes are able to compete at our Tour events should they qualify to do so, a position that until today's announcement has been shared across professional tennis. The WTA will be evaluating its next steps and what actions may be taken regarding these decisions."
The Kremlin said on Wednesday a ban on Russian players would hurt Wimbledon itself given Russia's tennis prowess and was "unacceptable".
"Given that Russia is a strong tennis country the competitions [which take this decision] will suffer from this," Kremlin spokesperson Dmitry Peskov told reporters on a conference call.
Roger and Mirka Federer Have His & Hers Rolex Watches
Roger and Mirka Federer were probably at home enjoying another picturesque morning in Valbella, Switzerland, boning up on their King James Bible, when they stumbled on this line in Ecclesiastes 4:9-12: "Two are better than one." Because, earlier this week, the Federers lived the maxim when they were both spotted wearing top-notch Rolex watches. For if one Rolex fails, the other one will keep on ticking for its fellow. This is the type of attitude expected
from GQ's Most Stylish Man of the Decade. The honor isn't earned through an inward, self-centered devotion to dressing well, but from a mindset that permeates everything around him—if Mr. Federer is wearing a great Rolex, Mrs. Federer surely needs to have one on her wrist as well. And what a week in watches it was: Jay-Z is back with another icon, and everyone else unleashed their best bling.
MELBOURNE AUSTRALIA JANUARY 30 Roger Federer of Switzerland speaks during his post match press conference on day eleven…
Morgan Hancock
A silver rolex with a black dial
Switzerland's Roger Federer's wife Mirka Federer takes pictures after Federer defeated Serbia's Filip Krajinovic during…
Greg Wood

A silver rolex with a diamond encrusted rainbow dial
Roger Federer's Rolex Day-Date II and Mirka Federer's Rolex Cosmograph Daytona "Rainbow"
Apologies to Roger, but he must hold two Ls this week. The first is for falling to Novak Djokovic in the semifinals at the Australian Open. The second is about watches. Because Rog's Day-Date II is nice and all, but pales in comparison to the watch his wife wore while watching the match from the stands. Her Rolex Daytona, with a spectrum of sapphires circling around the bezel, is aptly nicknamed the "Rainbow"—fitting not just for the obvious reason, but because every time one appears it's a day-brightening treat. Mr. Federer is a longtime Rolex ambassador; we'd suggest the brand sign up his wife, too.
BEVERLY HILLS CALIFORNIA JANUARY 25 JayZ performs onstage during the PreGRAMMY Gala and GRAMMY Salute to Industry Icons…
Lester Cohen
A square watch with a gold dial and body
Jay Z's Jaeger LeCoultre Grande Reverso Ultra Thin "Tribute 1931"
You'd be forgiven for thinking that Jay-Z had already hit Watch Bingo. He wore a reversible $2.2 million Patek Philippe, a super-modern Audemars Piguet Royal Oak, a $2.5 million completely unique Richard Mille, plus—and this one was a toughie—he used $40,000 Rolex Daytonas as invites to his gala. But last weekend at the Grammys, Jay-Z showed that his watch knowledge goes deeper than the biggest names in timepieces. He wore yet another watch with a flippable case, this time the iconic Reverso from Jaeger-LeCoultre. It was first released in 1931 and Jay is wearing the rose-gold 80th-anniversary edition—one of only 500 in the world.
LOS ANGELES CA JANUARY 26 Trevor Noah attends the 62nd Annual Grammy Awards at Staples Center on January 26 2020 in Los…
David Crotty
A gold watch with a red and blue diamond dial and a diamond encrusted face
Trevor Noah's Rolex GMT Master-II
In 1993, the world was introduced to a revolutionary new product. It bucked the norms of how we expected it to appear—as it had appeared for many decades—by spilling out into your cup as a completely clear liquid rather than the bubbly brown cola people were accustomed to. This product was Crystal Pepsi, and it was not long for this world. In 2020, Trevor Noah brought to Music's Biggest Night another revolutionary new product. This new product, released in the spring of 2019, is also a twist on a classic, but we think this one has the power to stick around forever. And, for what should be obvious reasons, it only makes sense we would also call this the "Crystal Pepsi" Rolex.
Former NBA star and owner of Charlotte Hornets team Michael Jordan looks on as NBA commissioner Adam Silver addresses a…
Fracnk Fife
A silver rolex with a blue face
Michael Jordan's Rolex Sky-Dweller
Indefatigable, a global icon, ruthlessly competitive, an innovator, made for flying: these are just a few words and phrases I would use to describe the Rolex Sky-Dweller. Oh, and Michael Jordan, too, last seen pumping up the NBA's game in Paris between his Charlotte Hornets and the Milwaukee Bucks. His Sky-Dweller, like the GMT, was made for exactly this type of world travel, allowing its wearer to see the time in two different places at once. (Funnily enough, this watch's reference number starts with the number "32," which, flipped around is—well, you know!)
LOS ANGELES CA JANUARY 24 Mark Wahlberg is seen on January 24 2020 in Los Angeles California.
Bauer-Griffin
A black watch with a green dial
Mark Wahlberg's Patek Philippe Perpetual Calendar 5271P
Mark Wahlberg's watches are always a step or two or 100 above what the situation calls for. The actor wears Patek Philippe's Nautilus during a day on the beach and even swims in the ocean with it. It only makes sense he would need a watch set with 52 emeralds for a casual night out.
LOS ANGELES CALIFORNIA JANUARY 26 DJ Khaled and John Legend emrbace during the 62nd Annual GRAMMY Awards at STAPLES…
Kevin Winter

A silver watch with a diamond encrusted face and dial
John Legend's Rolex Cosmograph Daytona
Typically an Audemars Piguet guy, John Legend busted out something special and different for the Grammys Sunday night. Legend's version of the Rolex Daytona is so blinged out it makes even Federer's Rainbow edition look humble and understated. This is what we talk about when we talk about "iced-out" watches: there are 437 diamonds on this piece alone. Amazingly, they are all factory set, meaning it's the work of Rolex rather than an after-market jeweler.