Naomi Osaka And Serena Williams Make A Fortune But Remain Outliers Among The Highest-Paid Athletes
When it comes to winning advertisers, few athletes have the pull of tennis aces Naomi Osaka and Serena Williams.
The 24-year-old Osaka has more than 20 corporate partners, making $58 million before taxes and agents' fees over the last 12 months from brands including Nike, Mastercard and Louis Vuitton. That's the fourth-best off-field total among the world's top athletes, behind only Roger Federer, LeBron James and Tiger Woods—and ahead of names like Lionel Messi, Cristiano Ronaldo and Tom Brady. Williams, 40, has more than a dozen endorsement deals of her own, pushing her off-court haul to $45 million, tenth-best in the world.
Those earnings, plus prize money won on the court, land Osaka at No. 19 in Forbes' 2022 ranking of the world's 50 highest-paid athletes, with $59.2 million total over the past 12 months. Williams, with $45.3 million, comes in at No. 31.
That's no small victory in the world of women's sports. The third-highest-paid female athlete—Williams' sister Venus—was more than $20 million short of meeting the $37.6 million cutoff. The last female athlete other than Osaka and Williams to rank among the top 50 was Maria ​​Sharapova in 2015, with $29.7 million. In 2017, 2018 and 2019, no women made the cut.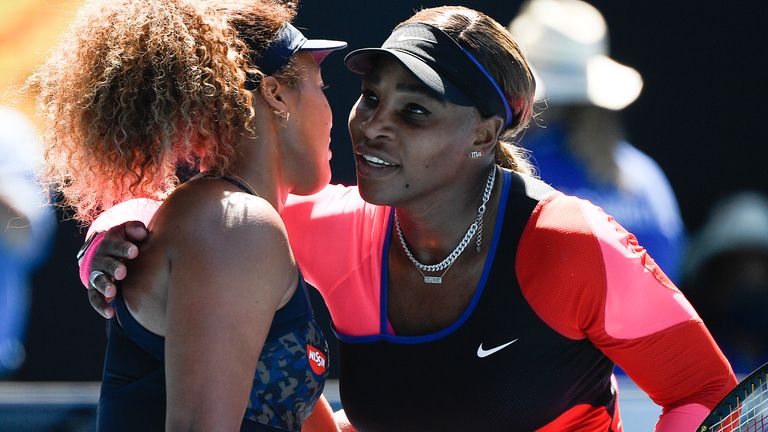 That's partly because, with women's sports lacking the media exposure that men's sports get, brands are generally less inclined to steer their marketing dollars to female athletes. Only two women besides Osaka and Williams, for instance, made at least $10 million off the field last year, according to Forbes' estimates: Venus Williams ($11 million) and gymnast Simone Biles ($10 million). This year's ranking of the 50 highest-paid athletes, meanwhile, features 26 male athletes making at least that much, and that doesn't include at least a handful of others—like golfer Jordan Spieth and tennis star Novak Djokovic—who easily beat that off-field threshold but fell short of the overall cutoff.
The bigger impact of the lack of media exposure, however, comes on the field. Without massive broadcast deals, women's team sports simply don't have the revenues to support the blockbuster salaries and bonuses that exist on the men's side.
Take basketball. The NBA collects an annual average of $2.67 billion from ESPN and Turner Sports for the rights to show its games, more than 100 times the amount the WNBA has reportedly been getting from its one TV partner in recent years, ESPN. With that kind of deficit, base max salaries in the WNBA topped out at about $220,000 last year. By contrast, Golden State Warriors point guard Stephen Curry had the NBA's top salary this season at $45.8 million, and the league's minimum salary for full-year contracts was over $900,000.
There have been efforts to close the gap, in basketball and elsewhere. The WNBA's 2020 collective bargaining agreement nearly doubled the max salary, and the league has attracted new sponsors as its TV ratings have risen. The Premier Hockey Federation has a new media deal, and the National Women's Soccer League, which is getting a boost from ​​new owners and expansion teams, signed a collective bargaining agreement in February that raised its minimum salary by nearly 60%. The same month, the U.S. women's national soccer team reached an equal pay settlement with U.S. Soccer, the sport's national governing body.
Meanwhile, the U.S. Women's Open is increasing the purse for its golfers to $10 million this year, from $5.5 million. All four of tennis' Grand Slam tournaments have paid men and women equal prize money since 2007, and rising stars Emma Raducanu and Coco Gauff are picking up valuable endorsement deals while still in their teenage years.
But while the pay gap is narrower in individual sports, disparities exist there as well. In golf, the 2021 Women's PGA Championship winner, Nelly Korda, took home $675,000, less than a third of the $2.16 million that Phil Mickelson won at the men's PGA Championship. Outside of the Grand Slams, it is often a similar story in tennis. Ashleigh Barty earned $255,220 for winning last year's Western & Southern Open outside Cincinnati, a warm-up event for the U.S. Open; the men's champion, Alexander Zverev, collected $654,815.
All of it suggests that Osaka and Williams, with their powerful appeal to sponsors, will continue to stand out.
It's no coincidence that they both play tennis, where their clothing represents valuable real estate for advertisers eager to get their logos on television. It also helps that Osaka, who set a record for a female athlete by earning $60 million on last year's athletes list, was born in Japan, a country whose marketers are willing to pay up for sports stars. (Just look at Shohei Ohtani, who is earning an estimated $20 million off the field, an unheard-of mark for a baseball player.) In March, Osaka added a massive endorsement deal with cryptocurrency exchange FTX that came with an equity stake. This month, she announced she was leaving IMG to launch her own sports agency, Evolve, and continue to grow her business.
"To those outside the tennis world, Osaka is a relatively fresh face with a great back story," David Carter, a sports business professor at USC, told Forbes in 2020. "Combine that with being youthful and bicultural, two attributes that help her resonate with younger, global audiences, and the result is the emergence of a global sports marketing icon."
Williams turned pro in 1995 and has been in the global spotlight since winning the 1999 U.S. Open at age 17. In addition to lucrative partnerships with brands like Nike, Subway and Gucci, she has a first-look TV deal with Amazon Studios that includes a docuseries about her, and she has found success as a venture capitalist. Her firm, Serena Ventures, announced in March that it had raised an inaugural fund of $111 million.
It's far too soon to say who will reach Osaka and Williams' level next, or when, but it's a safe bet which sport she'll come out of: Every year since Forbes started tracking the data in 1990, the highest-paid female athlete has been a tennis player.
How Scarlett Johansson's 'Black Widow' Costumes Were Custom-Designed for Comfort
Costume designer Jany Temime says working on Marvel's "Black Widow" was a dream job. She doesn't know the exact number of costumes she created, but it was "a lot."
The costume designer who counts "Judy," "Skyfall" and six of the Harry Potter films including "Harry Potter and the Deathly Hallows Part I and II" among her credits, turned to the Russian and Norwegian armies and the circus for "Black Widow" for design inspirations as new characters such as Yelena (Florence Pugh) and the Red Guardian (David Harbour) are introduced.
Temime also inherited Scarlett Johansson in the title role, whose costume that had already been established. This time around, she made a few tweaks to allow for comfort, sculpting it to suit a woman's body.
Here, she breaks down designing those looks.
On Inheriting the Black Widow Outfit and the Marvel Comic Universe
With the Black Widow costume, I changed a few things and adapted it to Scarlett and her body. When you get the design, you have a computer reality and you have the reality of a woman's body, and you have to put those two things together.
To make it comfortable, we had the base of the costume made from rubbery fabric. I also added in a design graphic to stop it from looking flat, and that was printed out.
Between the seams, we allowed two to three millimeters of elastic fabric to give some room and stretch because I didn't want her to feel like she was in something tight. I was so happy to hear Scarlett say that it was the most comfortable outfit.
The way we cut it too was glamorous, we cut the waist a little higher because you have to model the suit to the body to flatter it.
I also designed the young widow outfits which they gave me carte blanche with, and again, they were enthusiastic about it. It was such a collaboration and so dreamy. I also understood what [director] Cate Shortland wanted and her vision, especially for that opening sequence.
Introducing Yelena and the White Suits
Since Yelena came from Russia, I looked at it from a different point of view. I looked at photos of the Russian and Norwegian army and I came across some of the soldiers in the snow wearing white, and that's where the white uniform idea came from – also they pick up their "father" in the show so I thought that would look gorgeous.
I wanted her outfit to be more functional and more army-like. I used double fabric with cotton and nylon stitched together gave it volume which had this sportswear look to it. Her look was less of a superhero than just a normal one.
We also had to introduce the green vest. She says in the film she bought this vest with all those pockets, and the idea was that she had come out of that brainwashed spy world, and buys that. So, I made something easy to wear, sturdy, practical and based on post-'50s sportswear fashion.
When you look at the women in their different suits, I hope you can feel and see the difference between Russia and the USA.
Scarlett's white suit was made from similar fabrics used on scuba diving suits – that's what gave it a rubbery look.
And again, I printed other aspects of the costume to make it interesting and to create that lift so it didn't look flat and boring, and just to cut that monotony of plain rubber-coated fabric.
The Red Guardian
I wanted to design something that reflected what the Soviet Union thought America was. So, there was this superhero design with this primary color of red, that helmet that looks terrible with that piece under the chin, and it was so old fashioned, almost like an old-fashioned comic.
That helmet was inspired by those guys who are shot out of cannons at the circus.
David was amazing. I created it for him and on him. He is the sort of actor who could feel the part from the inside out. He didn't mind being slightly ridiculous as long as you get the effect, especially in that sequence where he is trying on the costume for the first time and it's so tight.