Tiger Woods hosts Masters Champions Dinner with family, 'quarantine style'
There might not be any action this week at Augusta National during what would've been Masters week, but defending champion Tiger Woods still put on his green jacket and hosted his Champions Dinner alongside his family "quarantine style."
The coronavirus has sidelined this year's tournament until November, but no Masters week in April, no problem for Woods. He posted this photo on Twitter and Instagram showcasing a table setting centered around his trophy while spending quality time with children Sam and Charlie and girlfriend Erica Herman.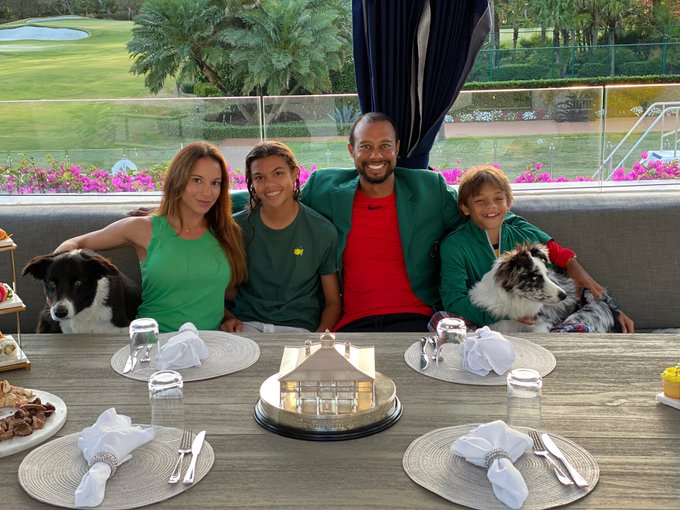 After his iconic 15th major victory at last year's Masters, Woods said he intended to serve a familiar meal of fajitas, sushi and milkshakes at this year's event.
"Being born and raised in SoCal, having fajitas and sushi was a part of my entire childhood, and I'm going back to what I had in 2006," Woods said. "So, we'll have steak and chicken fajitas, and we'll have sushi and sashimi out on the deck, and I hope the guys will enjoy it."
It's unclear what he did serve his family on Tuesday night, but seeing Tiger in his (fifth) green jacket again gave us a smile we all needed.
Stylish or vulgar? With fluorescent interior, Floyd Mayweather rides around in an almost $8 million Rolls-Royce
Boxing legend  Floyd Mayweather Jr. appeared this week sporting a new "toy". On Instagram, he posted a video of the latest addition to his luxury car collection: a Rolls-Royce Cullinan. The vehicle, which is worth from $ 1.7 million in the U.S. market, has a completely customized interior.
With steering wheel, seats and part of the dashboard in a lime green color, Mayweather's black SUV also features a "starry" roof. For the registration, the 45-year-old boxer wore an outfit to match the car's style.
The customization was ordered by the former athlete from the Champion Motoring dealership in California. On social networks, the company had already published images of the car, but without "giving away" who would be the owner.
The Cullinan has a 6.75-liter V12 engine that generates 543 horsepower and 86.6 kgfm of torque. According to the portal 'Auto Evolution', the model can reach 100 km/h in 5.2 seconds and has a top speed electronically limited to 249 km/h. This is the sixth Rolls-Royce of Mayweather, who already had another Cullinan in his collection.
The legendary boxer has always been a supercar aficionado and says he owns more than 100 of them.
During his career in the ring, the boxer earned the nickname 'Money' for being the highest paid athlete in the world. The former boxer was only overtaken in 2016 by Cristiano Ronaldo.