Laver Cup Flashback: Rafael Nadal and Tomas Berdych lose to Kyrgios, Sock
Rafael Nadal had a chance to compete at the inaugural Laver Cup in Prague 2017. The Spaniard stepped on the court on an opening day alongside Tomas Berdych, as Team Europe faced Jack Sock and Nick Kyrgios in a thrilling clash.
Team World prevailed 6-3, 6-7, 10-7 in an hour and 48 minutes and delivered their first Laver Cup victory after three singles losses. Nick and Jack fired 12 aces and claimed eight points more than their rivals. Rafa and Tomas failed to break their opponents, but they stayed competitive after the opening set to give the crowd something to cheer about.
Kyrgios served first and held at love for early momentum. Sock added another fine hold at 1-1, and Nadal locked the result at 2-2 a few minutes later. Team World broke Berdych's serve in the sixth game when Kyrgios cracked a backhand down the line winner that sent them 4-2 ahead.
Rafael Nadal and Tomas Berdych lost at the 2017 Laver Cup in Prague.
Jack saved a break point in game seven with a booming serve and pushed his squad 5-2 up with an ace down the T line. Rafa grabbed the eighth game to prolong the set before Jack wrapped it up with a beautiful volley winner in the next one for 6-3 in 31 minutes.
Nadal held after deuce at 1-1 in the second set, and he and Tomas earned two break points in the next one. Sock clinched four straight points to get out of jail and level the score at 2-2. Nick served to prolong the set at 4-5 and fired a service winner toward Tomas to bring the result to 5-5.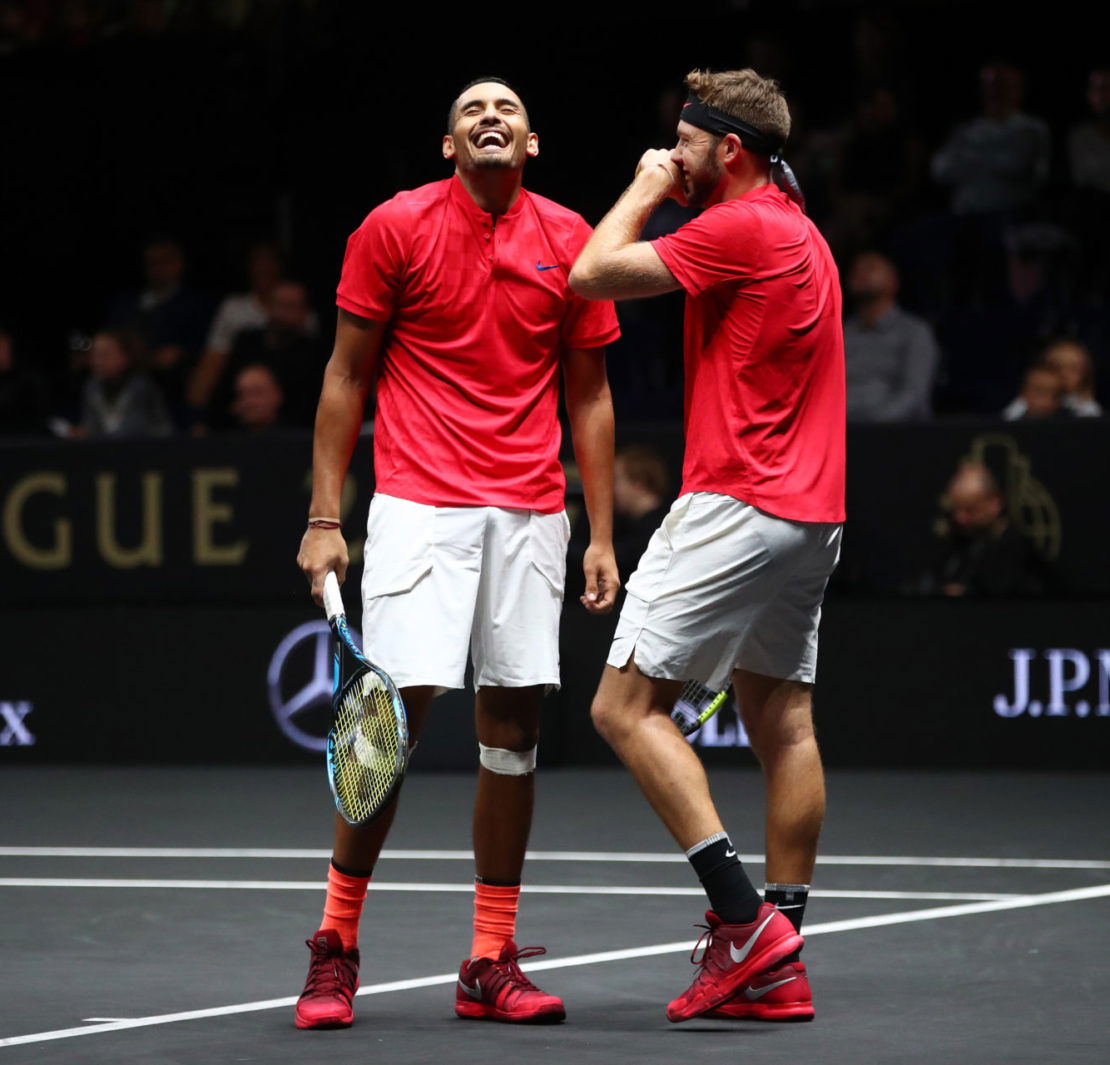 Both teams served well in games 11 and 12 to introduce a tie break. Nadal pushed Team Europe 4-2 up with a crafty volley at the net before Kyrgios landed a return winner to reduce the deficit to 5-4. Rafa reacted well at the net in the tenth point for 6-4, and their rivals saved both set points for 6-6.
Nadal and Berdych grabbed another mini-break, and the home player stroke a service winner to take the breaker 9-7. Nick leveled the score at 4-4 with a service winner in the match tie break and landed a forehand down the line winner in the next one for the advantage.
Jack blasted a forehand return winner for 6-4 before the Europeans climbed back to 6-6. Tomas sprayed a volley error at the net in the 15th point to fall 8-7 behind and send a boost to the other side. Nick landed a service winner for 9-7 and two match points and sealed the deal with an ace down the T line for a massive celebration.
Red Bull say they face 'massive challenge' to ready power unit for 2026 rule changes
Red Bull are hard at work preparing their own power unit for Formula 1's next engine regulation changes – which will come into play in 2026 – with the team's Technical Director, Pierre Wache, outlining the significant task that lies ahead.
Red Bull Powertrains (RBPT) was formed last year to take on the running of Honda's power units before becoming a manufacturer in their own right from the 2026 season – the Milton Keynes-based F1 operation joining Ferrari in housing both chassis and engine divisions on one campus.
Amid milestones such as a first RBPT dyno test being ticked off, Wache explained that Red Bull face a "very deep" learning curve to arrive on the scene with a power unit capable of challenging current manufacturers Mercedes, Ferrari and Renault – but he has faith that they will ultimately get the job done.
"From what I see – it is outside of my area, to be honest with you, my concentration at the moment is more on the current championship – it's clearly a massive challenge, even more when you start from scratch like they are doing," said Wache.
"You put everything in place, you see the building they have put together, the number of dynos, the number of people they have now. In this area, the learning curve is very deep, but the lead-time for parts is very long. Then they have to try to catch those with more experience – like with a current engine supplier – and try to beat them.
"It's a massive challenge. I think they will manage to do it; from what I see, [with] the desire and motivation, the quality of the people we have in our team… I think it looks good."
Alongside Red Bull Powertrains, the 2026 rule changes – which will see F1 power units maintain the current V6 internal combustion engine architecture but feature increased electrical power and 100% sustainable fuels – prompted German manufacturer Audi to commit to the sport as a supplier.
Offering the perspective of a current manufacturer, Mercedes Trackside Engineering Director Andrew Shovlin expressed his firm belief that any new arrivals will understand the task ahead and work through any challenges.
"With Audi or Red Bull Powertrains, they know what that challenge will involve, so we would always expect that they're going to come in with a good understanding of that and be resourced appropriately, and know how difficult it's going to be," he commented.
"From our point of view, this year you've got Ferrari with the most powerful power unit, maybe not the most reliable. But the benchmark will be very, very high, whether a newcomer comes in and sets that benchmark, or it's one of the existing teams. We'll work as hard as we need to, to try and make sure that we're up there."