Laver Cup Flashback: Rafael Nadal and Tomas Berdych lose to Kyrgios, Sock
Rafael Nadal had a chance to compete at the inaugural Laver Cup in Prague 2017. The Spaniard stepped on the court on an opening day alongside Tomas Berdych, as Team Europe faced Jack Sock and Nick Kyrgios in a thrilling clash.
Team World prevailed 6-3, 6-7, 10-7 in an hour and 48 minutes and delivered their first Laver Cup victory after three singles losses. Nick and Jack fired 12 aces and claimed eight points more than their rivals. Rafa and Tomas failed to break their opponents, but they stayed competitive after the opening set to give the crowd something to cheer about.
Kyrgios served first and held at love for early momentum. Sock added another fine hold at 1-1, and Nadal locked the result at 2-2 a few minutes later. Team World broke Berdych's serve in the sixth game when Kyrgios cracked a backhand down the line winner that sent them 4-2 ahead.
Rafael Nadal and Tomas Berdych lost at the 2017 Laver Cup in Prague.
Jack saved a break point in game seven with a booming serve and pushed his squad 5-2 up with an ace down the T line. Rafa grabbed the eighth game to prolong the set before Jack wrapped it up with a beautiful volley winner in the next one for 6-3 in 31 minutes.
Nadal held after deuce at 1-1 in the second set, and he and Tomas earned two break points in the next one. Sock clinched four straight points to get out of jail and level the score at 2-2. Nick served to prolong the set at 4-5 and fired a service winner toward Tomas to bring the result to 5-5.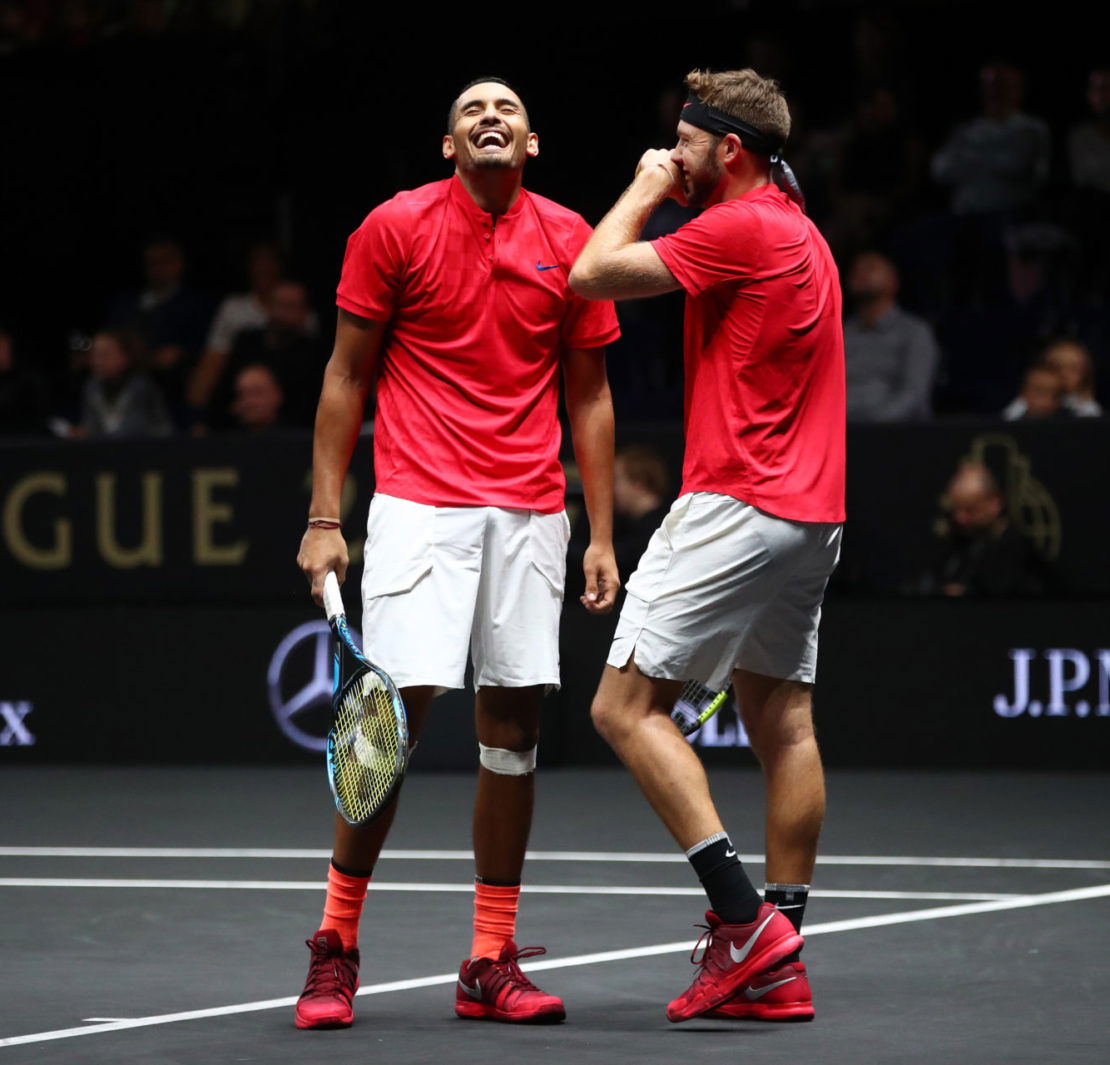 Both teams served well in games 11 and 12 to introduce a tie break. Nadal pushed Team Europe 4-2 up with a crafty volley at the net before Kyrgios landed a return winner to reduce the deficit to 5-4. Rafa reacted well at the net in the tenth point for 6-4, and their rivals saved both set points for 6-6.
Nadal and Berdych grabbed another mini-break, and the home player stroke a service winner to take the breaker 9-7. Nick leveled the score at 4-4 with a service winner in the match tie break and landed a forehand down the line winner in the next one for the advantage.
Jack blasted a forehand return winner for 6-4 before the Europeans climbed back to 6-6. Tomas sprayed a volley error at the net in the 15th point to fall 8-7 behind and send a boost to the other side. Nick landed a service winner for 9-7 and two match points and sealed the deal with an ace down the T line for a massive celebration.
Emma Raducanu shown what she's missing as ex-coach makes winning start with new player
Belinda Bencic got off to a winning start at the Guadalajara Open on Monday in her first tournament with new coach Dmitry Tursunov. The Russian was spotted working with the Olympic champion just days after he and Emma Raducanu announced that they were no longer training together, with reports claiming that it was Tursunov who chose to walk away from the 19-year-old.
Raducanu split with her fourth coach in the space of 14 months last week as she and Tursunov announced that they were no longer working together after initially starting their partnership ahead of the North American hard-court swing in August. The pair enjoyed some success together, with the world No 70 reaching her first semi-final in over a year at the recent Korea Open.
Tursunov was also with the British No 1 when she defeated Serena Williams and Victoria Azarenka back-to-back in Cincinnati, but it was reportedly the retired former world No 20 who opted to end his partnership with Raducanu. And it appeared that the Russian had already found a new charge when he was pictured working with Bencic days later in Mexico.
An Instagram story posted by the Guadalajara Open showed Tursunov watching on as the world No 14 practised ahead of the tournament last week, and Bencic has now won her first match since enlisting the 39-year-old as her coach. The 25-year-old managed to get revenge over Leylah Fernandez in the first round on Monday after losing to the Canadian at the French Open earlier this year.
And it appears the Tokyo gold medallist has already learned from her new coach, explaining that her game plan helped her get the win as she realised it was okay to play ugly tennis. Bencic continued: "I felt like I had a good game plan but it was tough to execute it with the conditions. I'm happy for the first match that I'm through. It doesn't have to be pretty."
With Tursunov already helping the Swiss player enjoy success, it will show Raducanu what she is missing after losing what appeared to be a suitable coach following her controversial choices to axe some of her former mentors in the past. For now, the Brit is working with fitness trainer Jez Green after injuries derailed parts of her season this year and saw her forced to retire a match on four separate occasions.